Twenty-five years ago today our company opened its doors in a small basement office on Main Street in Reading, Mass. Plenty of free parking in the suburbs, no traffic, a nice bagel shop next door, and close to home for our three original employees, two of whom are still with the company today.
Fortunately, we actually had something to do on Day 1, as we had four clients on the roster; two of them (E.B. Horn and Suffolk Downs) are still clients. And now they're also friends.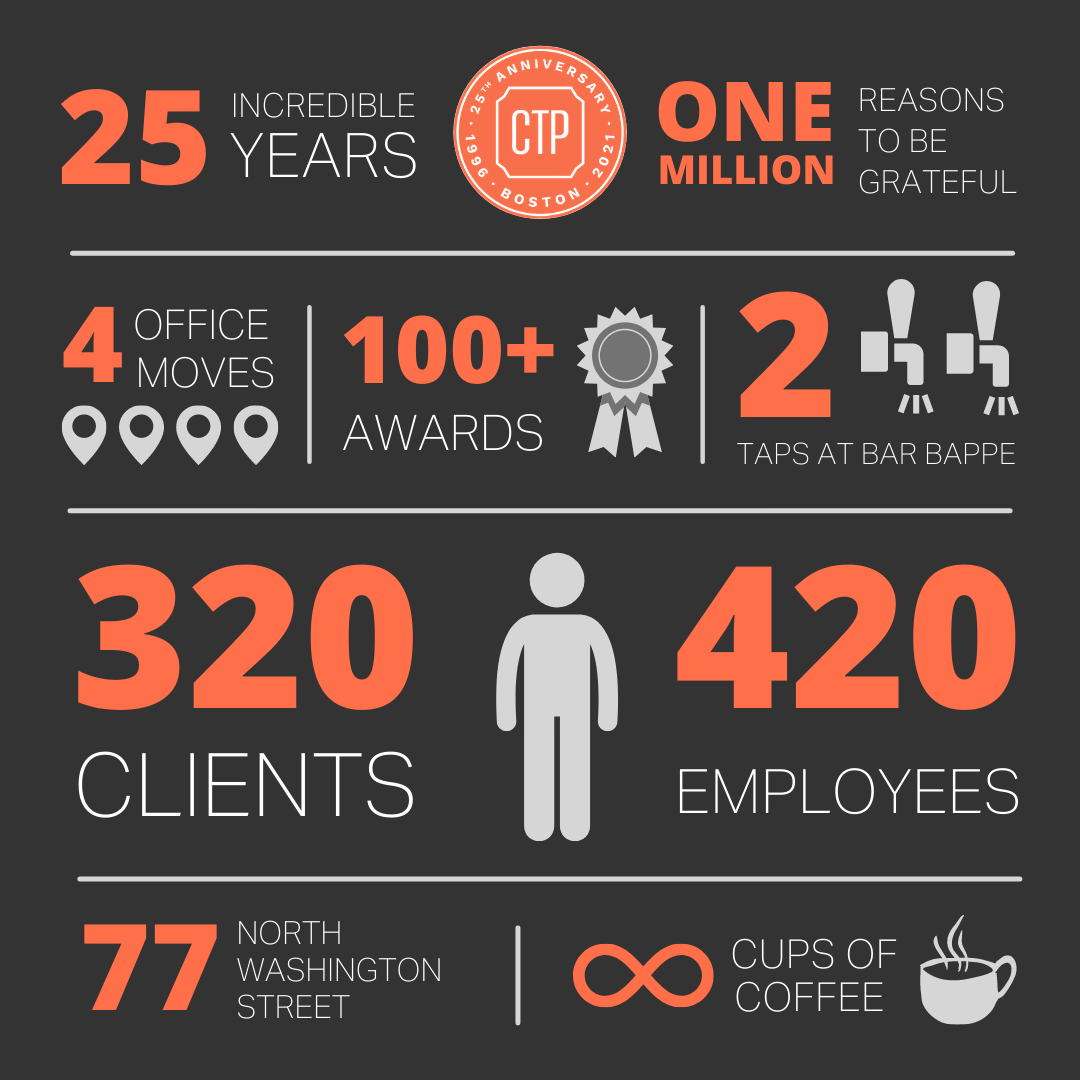 In all, we've had 420 employees and 320 clients over 25 years, and that's really what our company and our success have been about – people, and relationships.
We've celebrated together at each others' weddings (in person and more recently thanks to Zoom), and grieved together during less happy times.
We've had people we had to let go from our staff for difficult business reasons come back and join us for anniversary parties. That meant a lot.
We've had employees leave us, and come back. What could mean more than that?
We've had clients leave their company and bring us along as their marketing agency to their next stop. What better way to say we did a good job?
Way before WFH was a thing, we had members of our team move to other parts of the country but ask to stay on at CTP. They taught us many years ago that with the right people, working remotely can work. Who knew how valuable that lesson would be?
Some of the most beautiful, sincere and gratifying words we've read have come from people leaving CTP who tell us what an important part of their lives we'd become.
And some of our most satisfying moments have come from the amazing, inspiring community groups and nonprofits we've had the privilege of working with, all of whom have given us way more than we've given them.
We survived Covid together, but boy have we missed each other over the past 12.5 months. We'll be back together soon, and we'll celebrate our 25th birthday in person later this year (if you're reading this and we haven't connected for a while, please let us know how to find you so we can invite you to celebrate with us).
Today, we set off on the beginning of our 26th year. We're happy to share the day with our friends at Fenway, and with all those April Fools pranksters. But most of all, we want to offer just a simple thank you to all the wonderful people . . . our team, our clients, our partners and our friends . . . for making the first 25 years possible.