At CTP, we've called 77 North Washington in Boston home for 15 years, so it's safe to say we all missed our space when COVID forced us to suddenly adjust to a work-from-home environment. Now that we're fully living the hybrid model, where we're all in the office together on Tuesdays and Wednesdays, we, like many organizations, needed our space to work a bit differently for us.
Luckily, our search for a new space didn't take us far. We found the perfect option just one flight of stairs away. This summer, we officially moved to our new space on the 6th floor. It's one that fosters collaboration and allows us to make the most of our in-office time together.
Over the past several weeks, we've been able to finally welcome clients, friends and family (and those that are all three) into our space. We hope you can swing by at some point. In the meantime, here's a peek.
Fenway Lounge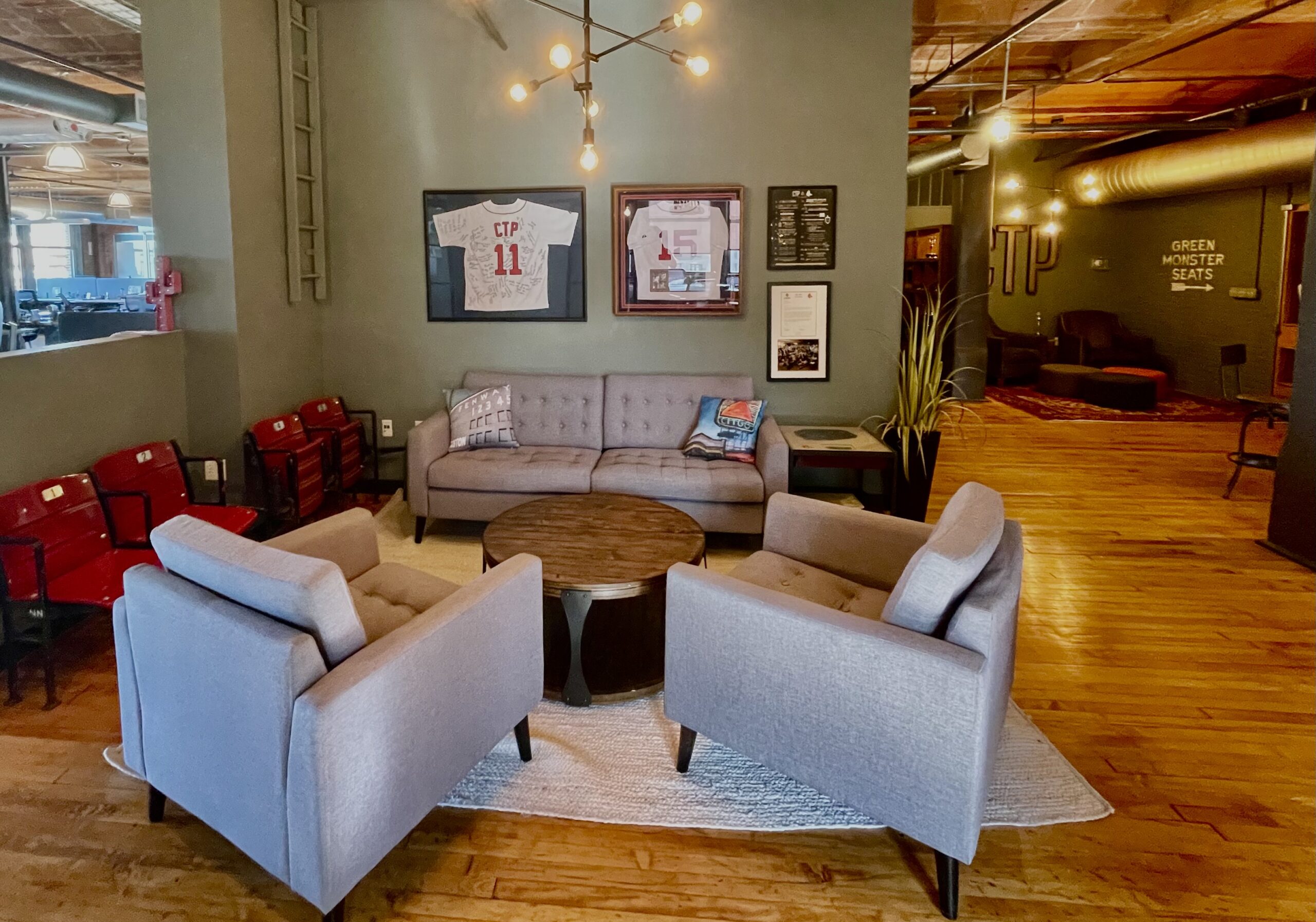 It's no secret that Fenway Park holds a special place in all of our hearts. From cheering on the Sox from Bar Bappe to enjoying hot dogs during our annual ticket draft and even finding ourselves humming 'Sweet Caroline', the Red Sox are part of who we are at CTP. We are so grateful for our long partnership working with the Sox as their creative agency, and will always bring our iconic park seats and other memorabilia with us wherever we go.
CoLAB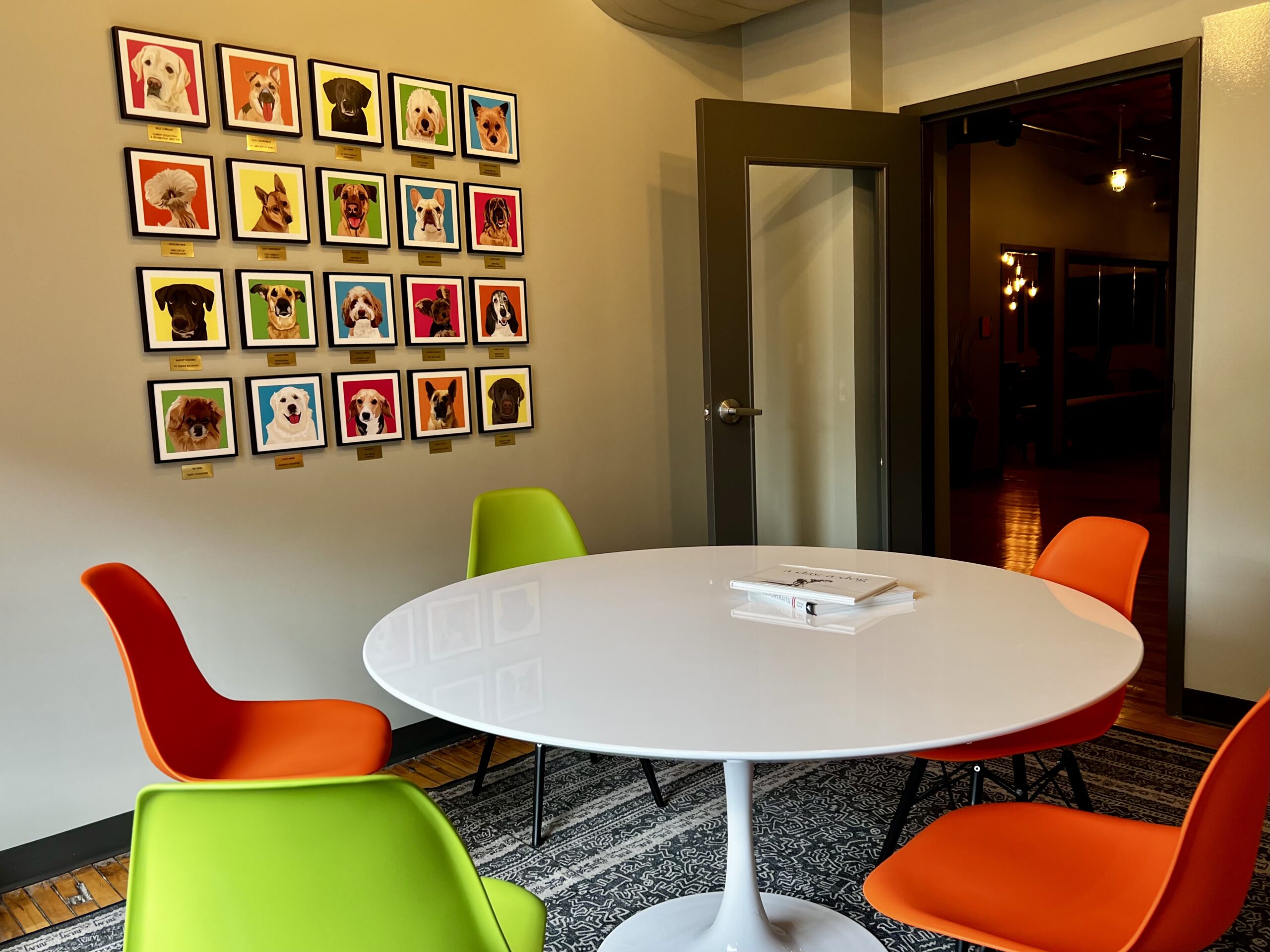 CoLAB is what you get when you design a conference room with collaboration at the forefront, and mix in a tail-wagging theme. (It was also the name of one of our favorite client projects for Red Hat). This conference is bright and colorful and has a large round table as the centerpiece, perfect for both small and larger brainstorm sessions. And while a collaborative space was the goal for this room, we of course needed a theme. As most know, CTP is an agency of dog-lovers, so to infuse more of our personality, this room features a gallery of all 20 CTPups, transformed into adorable vector illustrations. If you ever come by for a visit, be sure to check it out for an instant mood-booster. And see if you can find the odd-pet-out – Grant's chicken, Popcorn.
V-Suite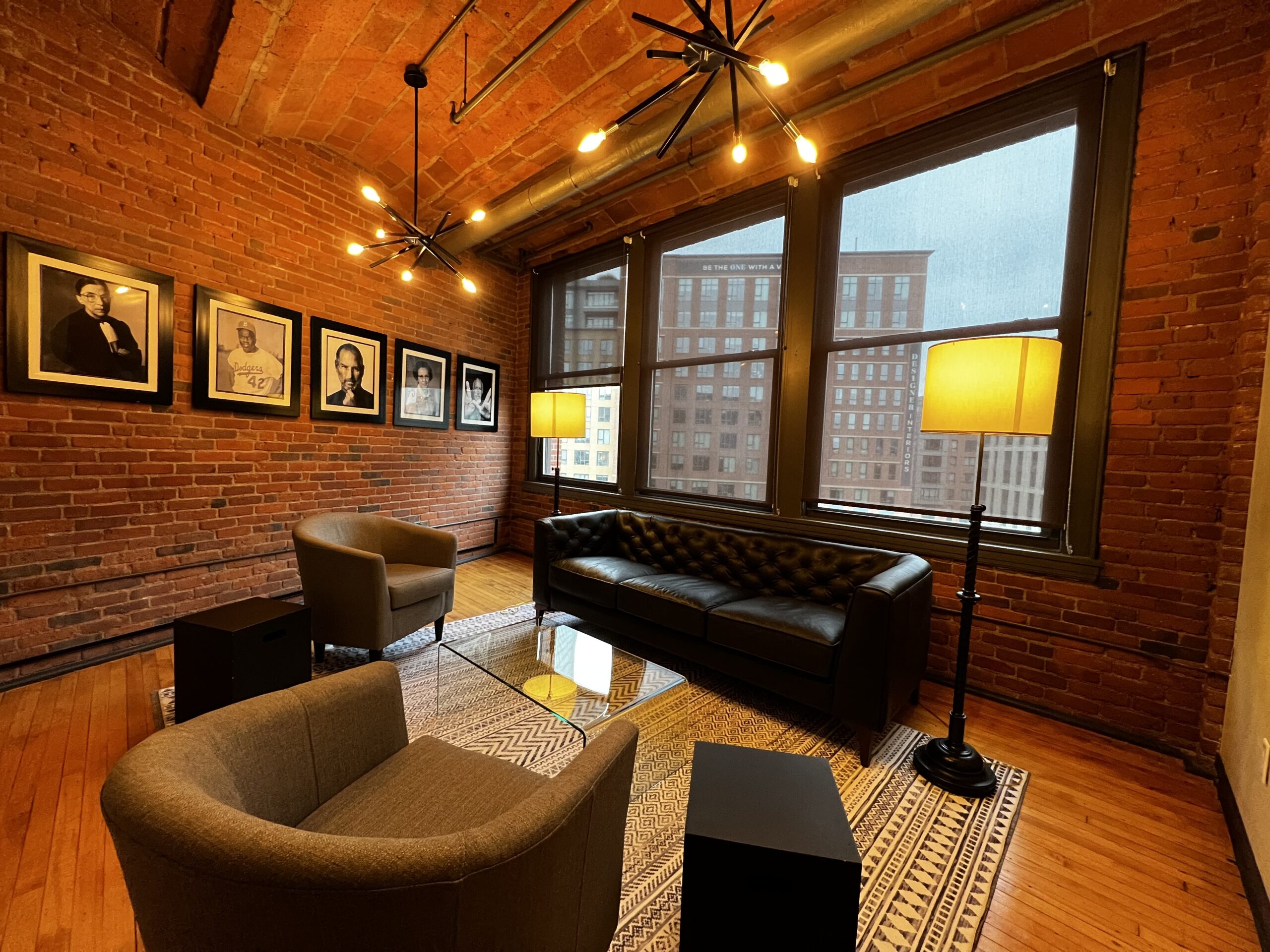 Not only is this corner conference shaped like the letter 'V' but the theme is inspiring visionaries across different periods and industries. When you walk into this monochromatically-decorated room, you're greeted by a gallery of portraits: Ruth Bader Ginsburg, Jackie Robinson, Lee Clow, Steve Jobs and Katherine Johnson – all people who have influenced us, and so many others. We want this to be a place where people are encouraged to dream like the visionaries they're sitting amongst. A space from which people draw inspiration and change the narrative with big ideas.
Bar Bappe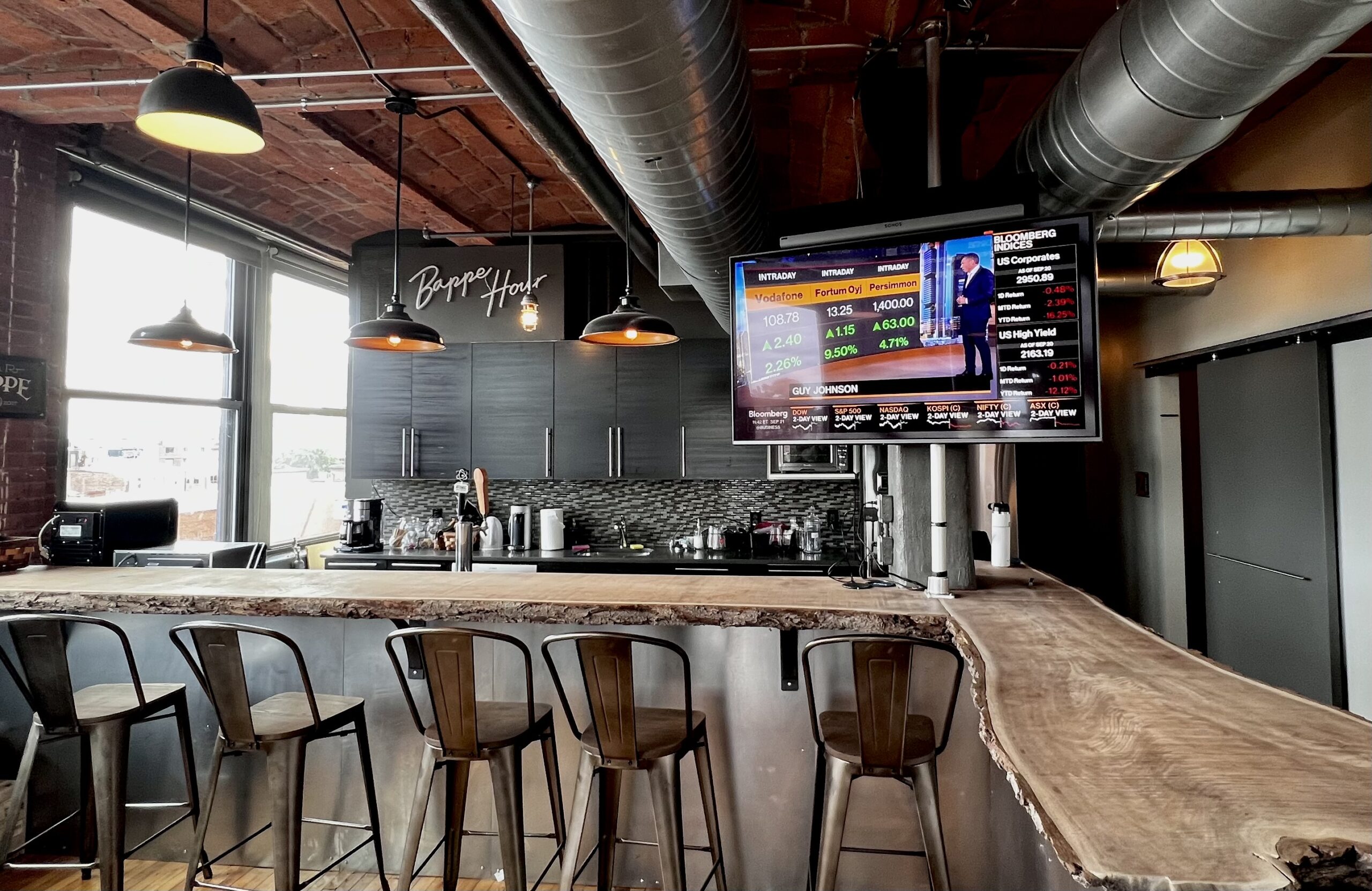 Named after our Chief Woodworking Officer (and Creative Director), Mark Bappe designed the space to not only share a hot or cold beverage, but to share stories and ideas and make the kind of connection you just can't get on Zoom. The surface is three inch thick black walnut set on top of hand forged steel brackets.  Hard to cut and even harder to lift, this tree also has roots to Bappe's homeland. This particular tree came down in a storm in Iowa, where Bappe grew up. He had it shipped out here and put his touches on it. For Bappe, it's right on brand. Stop by some time for Bappe Hour.
Cafe 77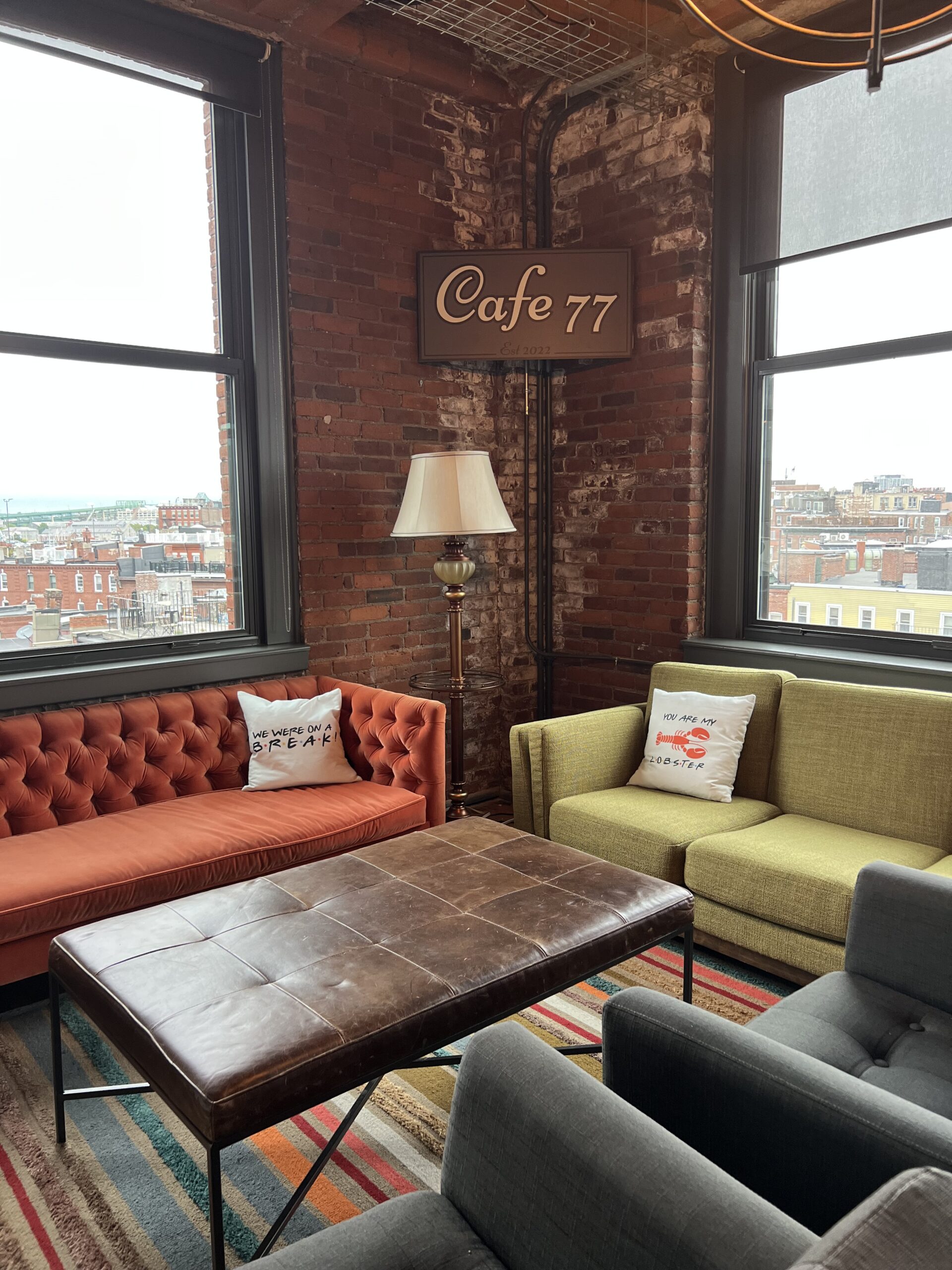 How you doin'? Well, we're great, because Cafe 77 is a unique lounge space that transports us back to the 90s when Ross and Rachel were on a break and Smelly Cat was stuck in all of our heads. This lounge space is the ideal place to share stories and ideas while enjoying a coffee with friends and colleagues. It's Inspired by the most iconic TV-cafe: Central Perk. It's a colorful and eclectic space complete with an orange couch, F•R•I•E•N•D•S throw pillows and even a PacMan arcade game. If it hasn't been your day, your week, your month or even your year, we'll be there for you. Coffee in hand at Cafe 77.
North End Lounge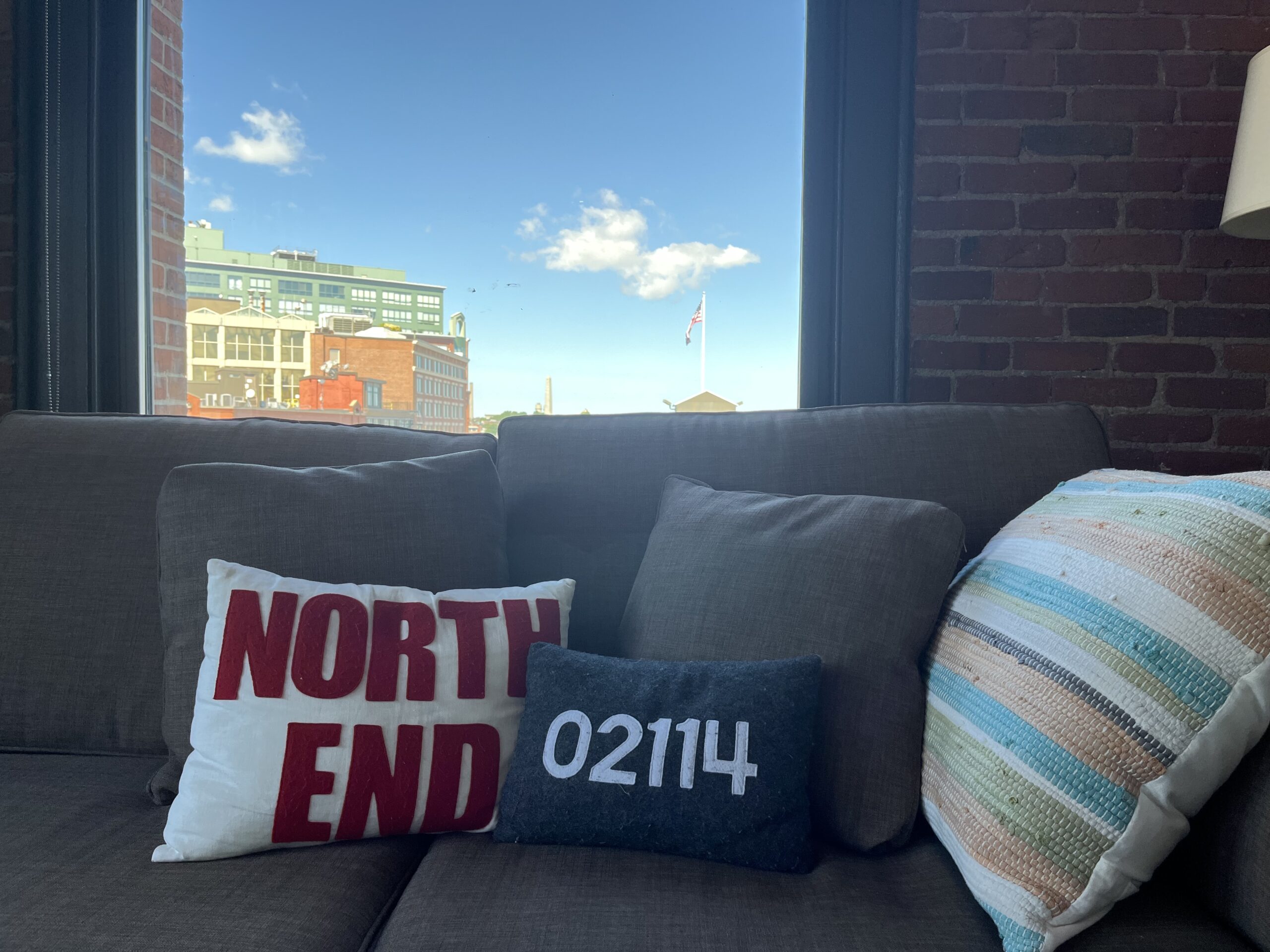 CTP moved into 77 North Washington Street in 2007, and 15 years later, most of us consider the North End to be our second home. This lounge space sits right on the corner of North Washington and Thacher Street and pays homage to our incredible neighborhood. One where there is never a shortage of lunch options and the best pastries in the city are right around the corner. We can't wait to have you – our clients, friends and family – in our new space, even if it's the cannoli from Mike's or the sandwiches from Mangia Mangia that bring you to our neck of the woods.
Zen Den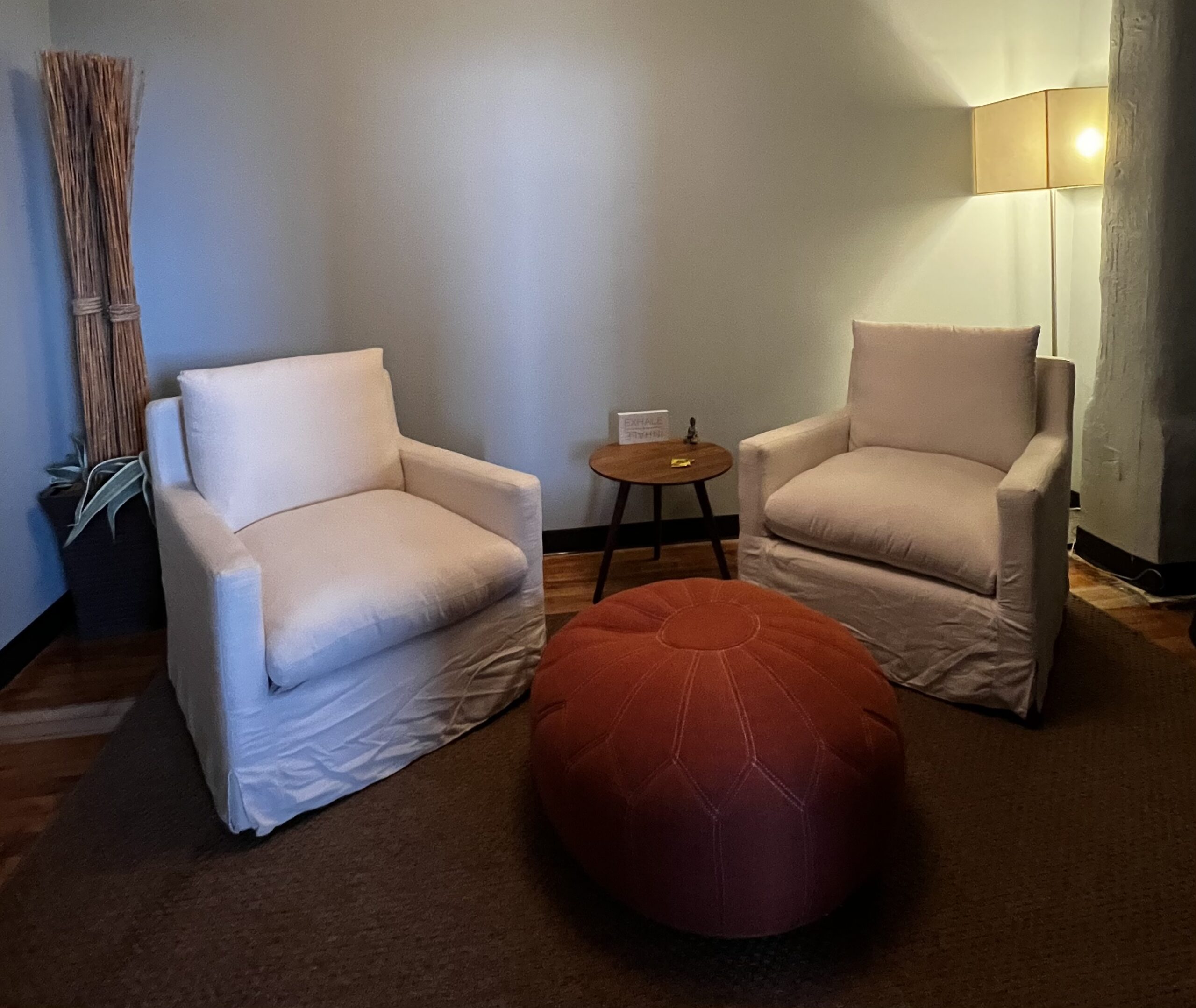 At CTP, we know that nobody can pour from an empty cup, so it's important to take time to re-charge whenever you need it. The Zen Den is a bright, but windowless space where anyone who needs a moment, can go take it. It's where we check in with ourselves, meditate and reflect. It is also doubling as a Mother's Room, so that our CTP Mamas can enjoy a private and peaceful space upon returning from parental leave.
Bunker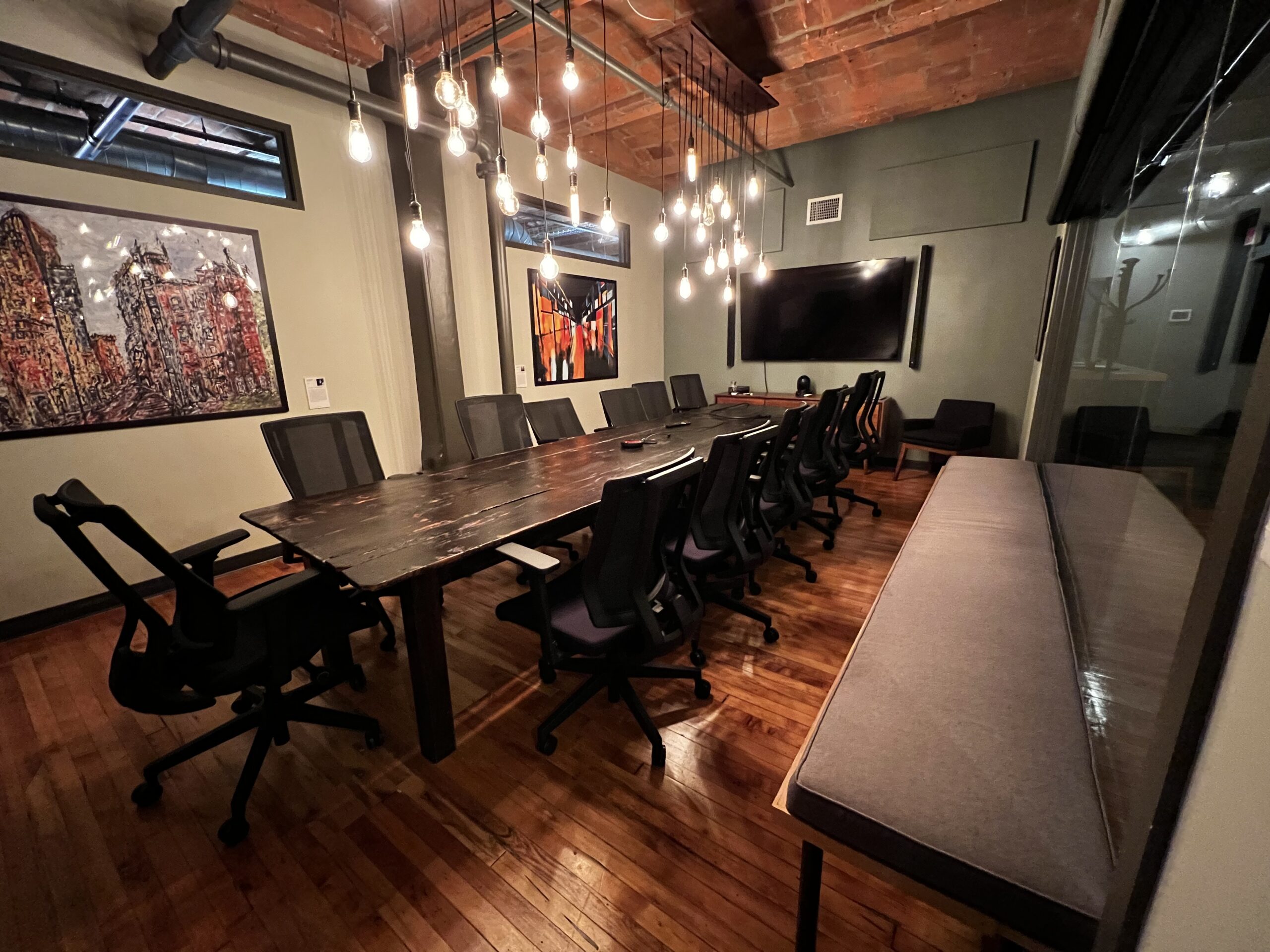 Bunker is one of two large conference rooms at CTP designed for meetings and presentations. Bunker feels as its name would imply, given it's one of our only internal conference rooms. It lives in the middle of our space vs. along the edge and is the first room you see upon coming into our office. In addition to the bunker-like layout and being less than a mile from Bunker Hill, the name of this room pays homage to Kansas City-bred Grant's late CTPup Bunker Pace, who was named after Bunker Hunt, the brother of Lamar Hunt, esteemed owner of the KC Chiefs and founder of the AFL. But Lamar was a lousy name for a dog. Thus, Bunker. Who was purchased with winnings from a Super Bowl pool. It's deep.
The Tank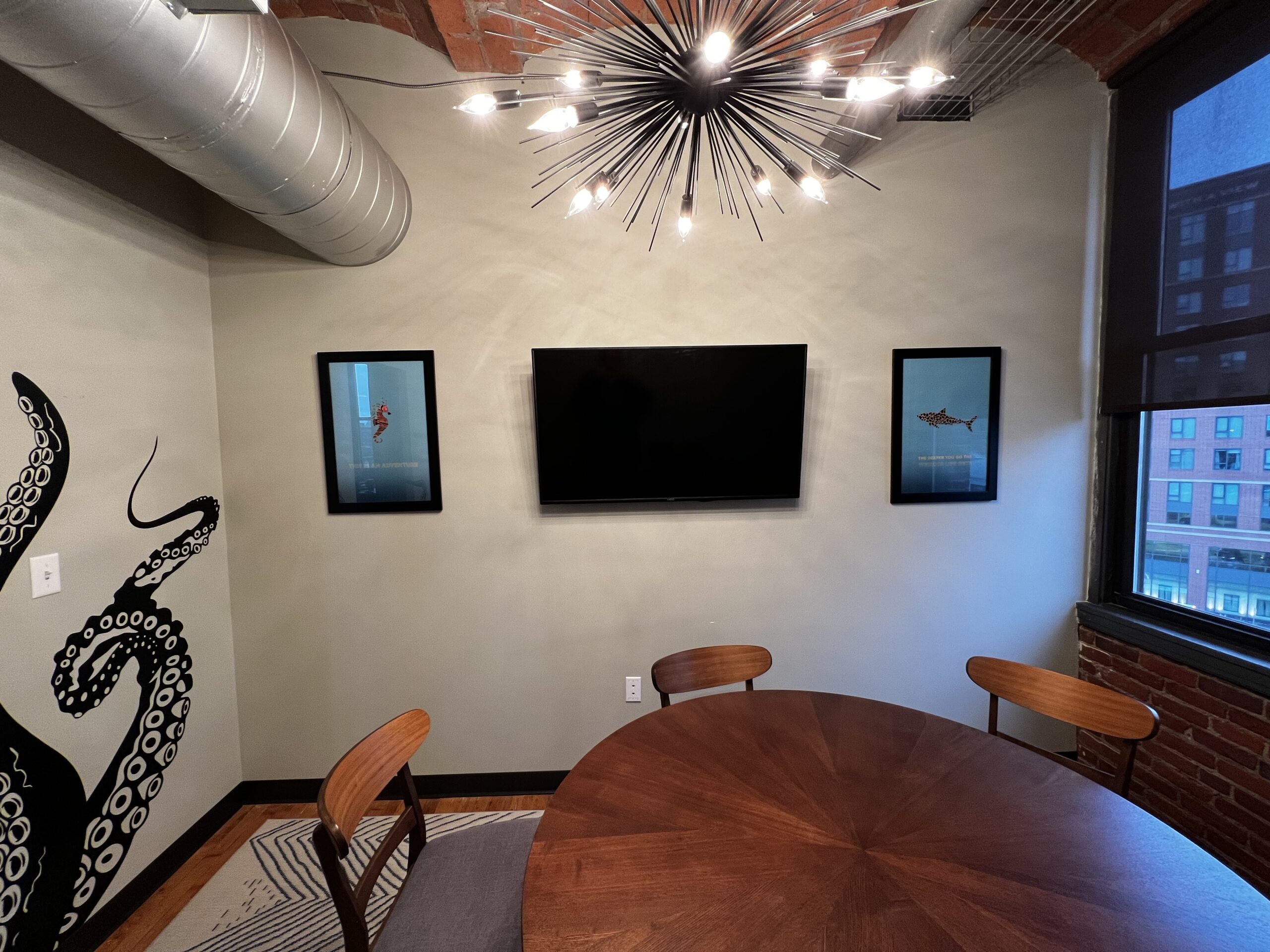 At CTP, our commodity is our creativity, and Think Tank is another perfect brainstorming spot where we'll be busy coming up with our next big idea. We also love a good dad joke here at CTP, which is what brought upon the nautical theme, transporting occupants into a different kind of Tank – one that's complete with ocean-themed wall-art and a salute to The Life Aquatic. With a seven-foot-tall tentacle decal lining the entrance, The Tank is shore to bubble some great ideas to the surface. (Pun intended).
Garden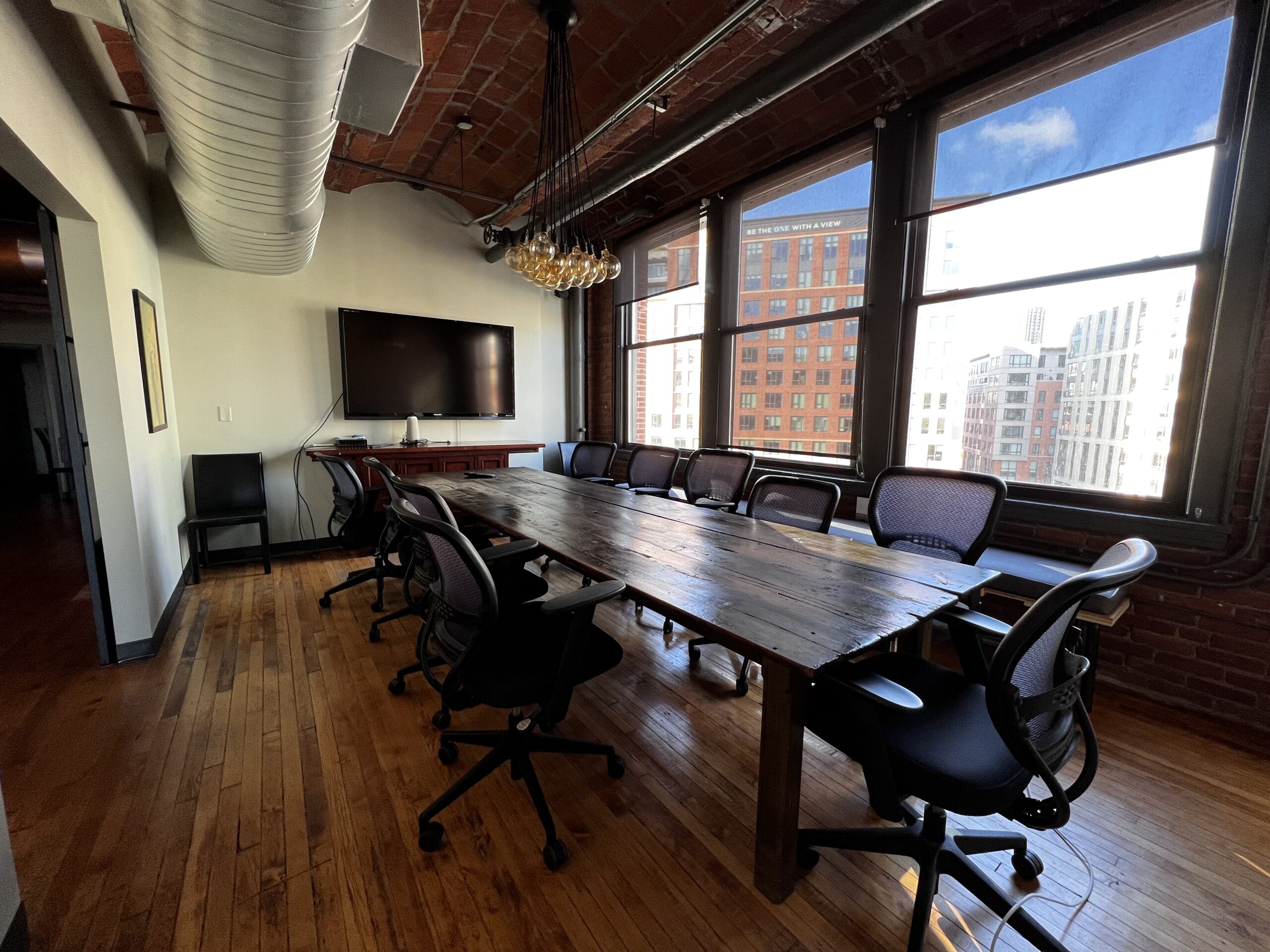 Garden is our other larger conference room. This room faces North Washington Street and got its name from a few different neighborhood landmarks. First, you can peek at the TD Garden, home of the Bruins and Celtics, from inside this room. But it also looks down on the new garden that was tucked between North Washington and Beverly Street. The park is small, but adorned with a ton of greenery in an otherwise tree-less area, and has a footpath for pedestrians to enjoy. Coincidentally, this park opened the same day we officially opened our new 6th floor space to CTPers.
Treehouse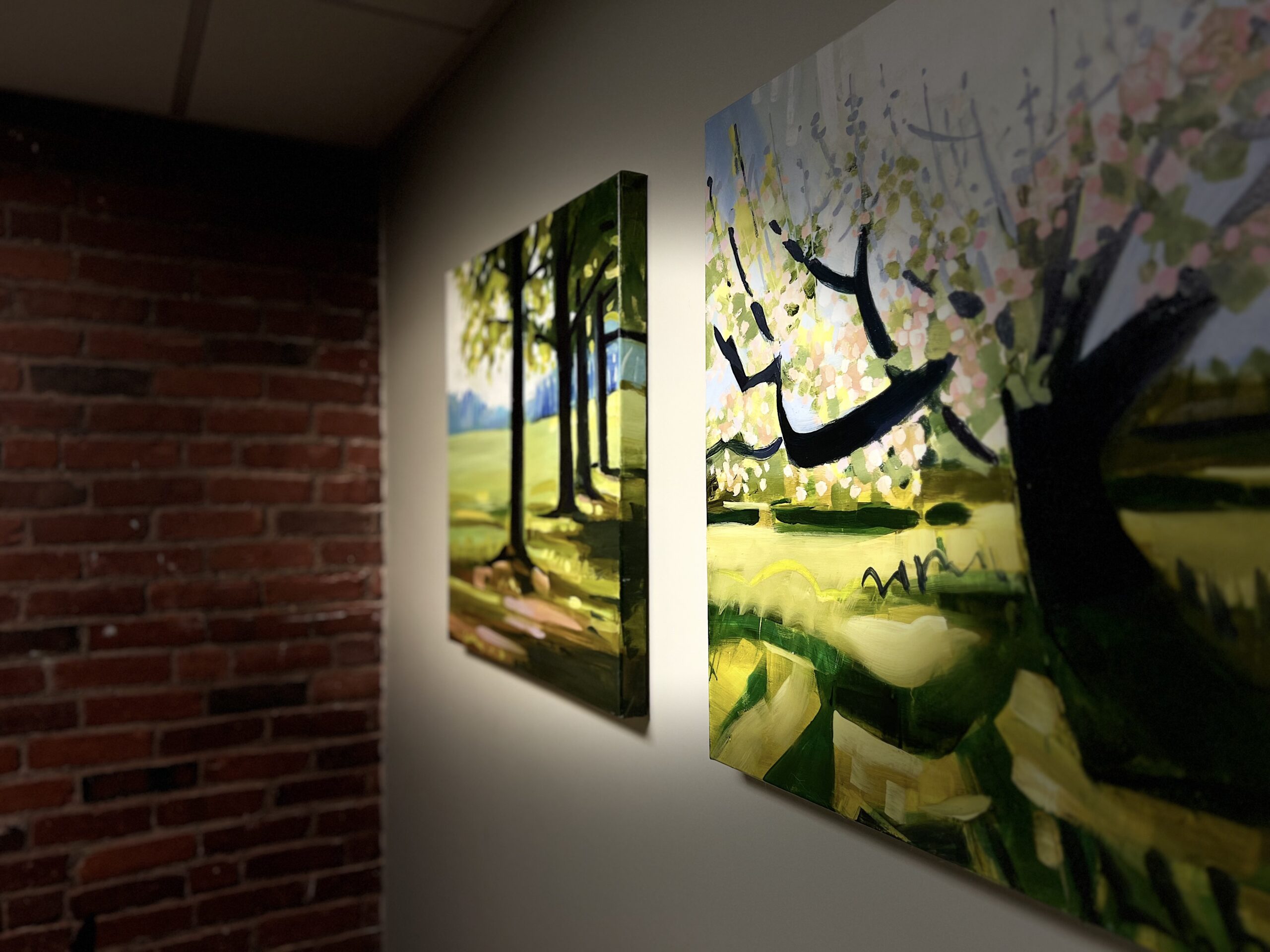 Treehouse is our Human Resources office, and its name is inspired by the art that lines the walls. We purchased a handful of pieces from North-Shore based artist, Margaret Sweet, who paints the expansive groves at Appleton Farms in Ipswich, MA. The beautiful scenery in her work makes this room feel like it's among the trees and pays homage to the North Shore areas that several CTPers call home.