CTP's uber-talented associate creative director Kevin MacKenzie was an aspiring musician and songwriter before he jumped into the ad business. We're lucky he made the move. But music, TV anthems and ad copy quench only part of his writing bug. He recently published a children's book, inspired by a painful encounter with an insect and his own daughter's thirst for bedtime stories. If you have a young child in your life, you can purchase Buzz the Bee here.
What was the impetus to write the book?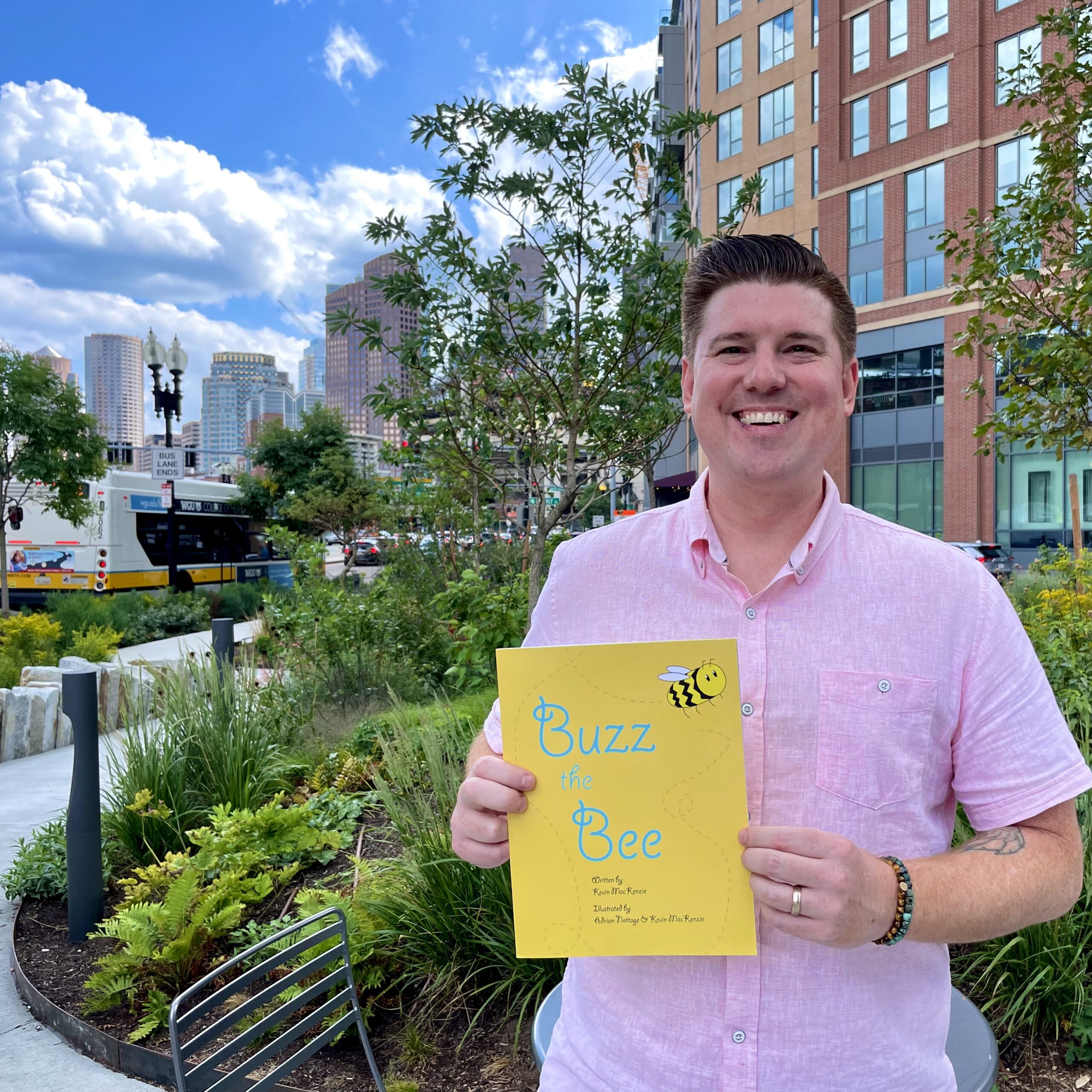 Funny story. So I was working out in the yard trimming a bush next to my blue house and got stung by a bee. At the time my daughter Ophelia was around 3 years old and was very curious about the stinging incident. Every night at bedtime she would ask about it and I would tell her, embellishing more and more until it started to transform into our go-to bedtime story. The first line in the book documents the actual event itself, "Buzz is a bee who lives in a beehive next to a big blue house, below a window, on a branch in a bright green bush. The rest gets very fictional from there, haha.
What were the reactions from Ophelia and Esmé?
They loved it. I thought reading a book to them I wrote was a feeling that would never be topped. They always asked for Buzz at bedtime which helped me realize the potential it could have. It really resonated with them. But the feeling that trumped everything was when Ophelia, in first grade at the time, read the whole book to me. No words can describe that. She was so proud and I was ball of mush. Something I'll never forget.
Was the process what you expected?
The process was a slow one. I wrote it on and off for about two years. Forgetting about it. Coming back to it. Rewriting it, until I had something I was happy with. I really didn't know what to do after that. I dabble in illustration, but thought illustrating a whole book would take me forever, so I went to Facebook to find an illustrator. I didn't have much luck until a mother of a 13-year-old reached out to me. Her son was a talented artist and was very interested in the opportunity. A big reason being how the story of Buzz resonated with him being transgender. "Buzz is a bee who believes he can be anything he wants to be," and he believed that for himself. So he hand drew Buzz giving him everything only a thirteen-year-old imagination could. I took that inspiration and illustrated the book based on that style. I then self-published through a company called Bookbaby to finally bring Buzz to life. The next step is trying to get a real publisher interested.
You have written ad copy, music, and now a book. Talk about the differences.
Songwriting inspires the way I write everything. I always fall back to more of a rhythmic style. Buzz is a perfect example. Full of alliterations that gives it an energetic rhythm. It's fun to read. I take a similar approach to ad copy. It has to flow right. It has to be smooth. When I'm writing an anthemic piece, I approach it like I would a poem. One line has to bounce a certain way and lead to the next. It has to feel good reading it, it has to solve a problem, but most importantly it has to come from the heart to connect with people.
Beyond your own work, what is your favorite children's book? Why?
There's a book series called Little Blue Truck by Alice Schertle. It's so fun to read, and that's really important. Parents have to enjoy reading a book as much as kids do listening to it or by the fifth time, you'll be ready to throw it out the window. The rhymes and rhythm Alice creates are so great. We started to rap it at night, which gave it a whole new life at bedtime. I sometimes still do. Little blue truck came down the road. "Beep," said Blue to a big green toad.
Is there a sequel in the works?
Not at the moment. I need to focus on this first book and really work to market it better and submit it to publishers since it's self-published at the moment. I think it has a lot of potential commercially. I see a Buzz plushie. I've talked with producer friends about making an animated show. Now, all I need to do is find some more time in the day and focus on one project instead of ten. Stay tuned.