Even though I, a 25-year-old female, find competitive ballroom dancing fun to watch, Dancing with the Stars has typically attracted an older demographic. In fact, it is one of the oldest skewing shows on primetime television, with a median viewer age of 66.5. Even as more and more consumers cut the cord, the show has still managed to retain a captive live audience for 29 seasons. But in 2020, the show's viewership is declining, and the reason is a lesson for advertisers as much as programmers: choosing the wrong spokesperson.
Let's back up a bit. Since Dancing with the Stars began in 2005, it has been hosted by Tom Bergeron, the beloved America's Funniest Home Videos personality. He stood opposite a rotating cast of leading ladies, until he began co-hosting with Erin Andrews in 2014. Over the past six years, fans fell in love with the charismatic duo, and were therefore shocked this summer when ABC replaced them with Tyra Banks.
To an outsider, Tyra seems like a logical choice. She has plenty of hosting experience, and brings a youthful energy to the show that could potentially bring a new generation of viewers to a program that has continued to age. 
It didn't go well. DWTS experienced a loss of more than 2 million viewers between the show's premiere and second week. It's no secret that loyal DWTS fans did not take well to the new frontwoman, and week after week, many continue to express their grievances on social media.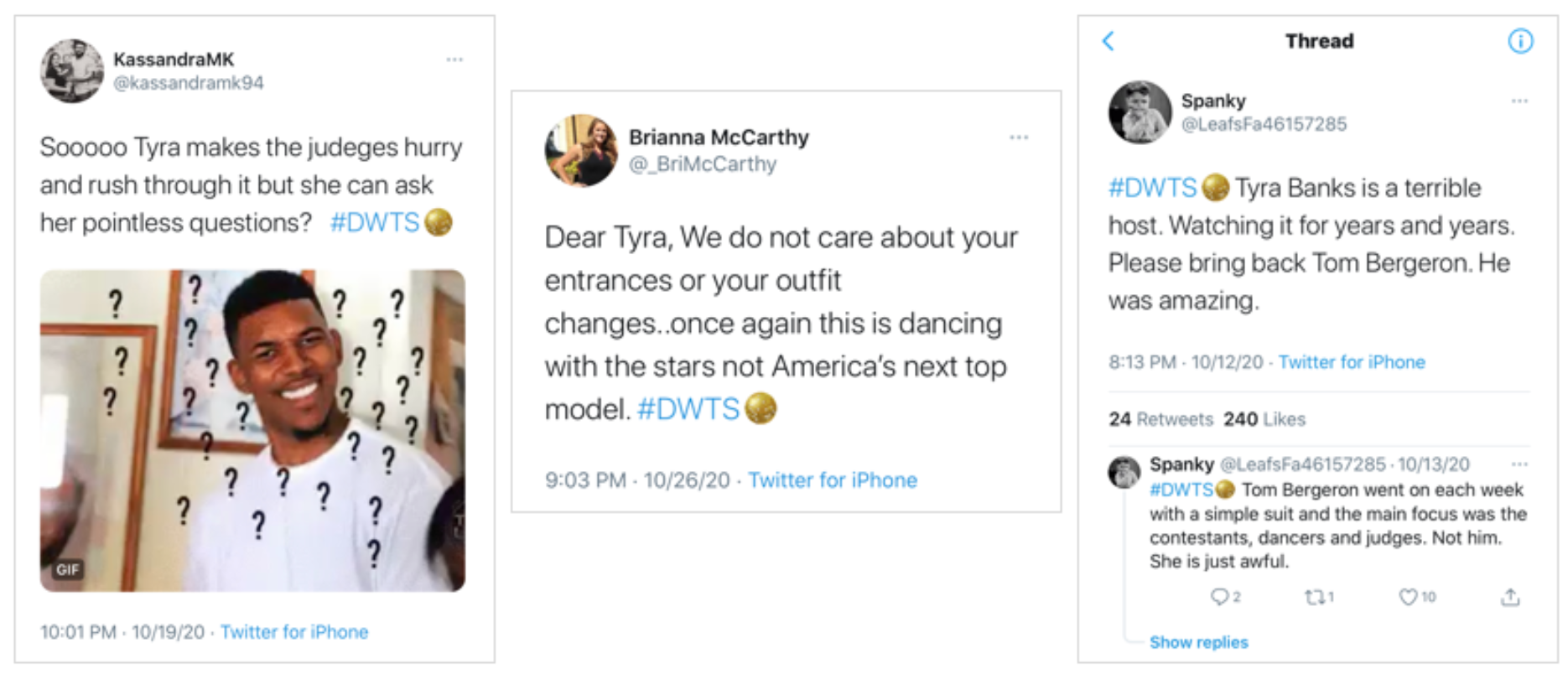 From interrupting the judges to awkward interactions with contestants, and even making a Steve-Harvey-esque mistake by incorrectly announcing a pair as safe, there's no shortage of stumbles. Part of that may be beyond Tyra's control: she is not the one with whom the show's loyal viewers fell in love. 
You might be asking, "What does this have to do with advertising?" Like hosts, celebrity spokespeople become the face of a brand's marketing initiatives and, more often than not, the brand itself. Choosing the right one, and/or moving on from an old one, is not a simple process. 
From our work with spokespeople over the years, here are some critical factors you need to consider when selecting a spokesperson:
1.Understand your loyal consumers: Consider who your viewers are, not necessarily who you want them to be. DWTS seemed to want to attract a younger demographic by changing its host. No problem. Change can be good. But they clearly misread or didn't understand what would resonate with viewers. This could have been avoided by committing to a deeper understanding of viewers – what characteristics they gravitate toward, how favorably they view the current spokesperson, etc. A brand will have more success with a clear understanding of how that person's audience overlaps with the brand's, and playing on those commonalities. 
2. Consider that reputation may vary by demographic: People, and how we feel about them, are completely subjective. While younger viewers may love Tyra, recognizing her from America's Got Talent or America's Next Top Model, the demographic that watches DWTS may not know or even care about her past experience. They will only judge her on her performance as host in the ballroom. Not knowing her other career accomplishments or accolades, current viewers will be less forgiving of mistakes and less likely to welcome an outsider into their community. 
3. Understand your brand image: It's important to think about how consumers currently perceive your brand and what they expect from it in order to select someone who is consistent with that image. Fans of Dancing with the Stars tune in to see celebrities compete as novice ballroom dancers, not for the fanfare and production of the show itself. To integrate someone like Tyra, who adorns multiple, over-the-top outfits over the course of each episode and abruptly cuts judges comments short for the sake of keeping a fast pace, flies in the face of what viewers expect from the show. And that's putting the dancing front and center.
4. Be sure to check their endorsement history: This is more than just checking a box to make sure there weren't any scandals that you'll need to avoid (or in the current climate, that their political affiliations or statements don't contradict your message). But be sure to consider the effectiveness of previous endorsements. Did the celebrity appear in one ad, or did they go above and beyond to become a true part of the brand's success? This is where social engagement can play a big role. If a celebrity has an engaged audience on social, and is willing to use his/her channels to support you, the endorsement becomes that much more valuable. 
5. Consider a spokesperson's passions and interests: When dealing with celebrity spokespeople, it's key that brands ensure alignment of personality between the brand and the celebrity in order to convey authenticity. For example, our client Eastern Bank announced David Ortiz as its 'Partner for Good' in 2017. He's proven to be a great fit for the brand over several years of campaigns. Not only is 'Big Papi' a household name within Eastern's footprint of New England, but like Eastern, he invests considerable time in giving back to his community and the causes he cares about.
You may be thinking, 'if it ain't broke, don't fix it.' That's not what we would suggest either. Every brand needs to continue to think about its evolution and the role it plays in the lives of its constituents. Change can be good. But staying the course or making change, particularly when it comes to the face of your brand, requires a deep understanding of your audience – who they are, not necessarily who you want them to be.