Our series of conversations with marketing communications leaders continues this week with a look at the impact of COVID-19 on the financial category. Michelle Crecca, Chief Marketing Officer for Marketing Strategy and Workplace Solutions at Prudential Financial, gives us a peek behind the curtain on the pivots the company needed to make for customers and employees in very short order.
Can you give us a bird's eye view of Prudential Marketing early on during the COVID-19 crisis?
At Prudential, the first couple of weeks into the crisis were almost a blur. We were moving with an incredible sense of speed and urgency, making fast adjustments to keep our business ecosystem up and running, while making sure that our nearly 50,000 employees from across the globe were cared for and our workplaces protected.
From a marketing perspective, it became clear that things were shifting in ways we could never have predicted. That meant that we had a lot of work to do. The messaging we had planned for months was no longer relevant. It required us to create entirely new campaigns from the ground up–and with almost no time to do it.
While our mid-to-long term strategy remained the same, our immediate message quickly pivoted to now be one of reassurance, resilience, and optimism, while digging deep into the strength and trust of our brand.   Ultimately, Pru's Brand team created a new campaign, thanking the America's frontline workers, in a matter of two weeks. Several of our businesses support these essential workers, and it was the time to lean in and say, "Thank You." It required us to be resourceful, think differently about production, and to quickly plan and negotiate media across TV, streaming networks, and social, all while working from home.
In what other ways did you reach your customers?
As one might imagine, the level of market volatility created a crisis of confidence in the financial well-being for millions of our customers. Record numbers of calls came into our customer call centers, and – as a company – we needed to increase capacity to meet their needs.
In a world turned upside-down, our Marketing team's job was to connect with our customers and stakeholders through every available channel possible. And we had to do so quickly, with relevancy and purpose.
Our customer service team set up automated virtual assistants and Interactive Voice Response (IVR) systems to take the pressure off call center volume. Meanwhile, Marketing mobilized to deploy chatbots and other online capabilities, and otherwise optimized our website content with information that was updated almost daily. These proactive communications really helped to answer many of our customers' common questions and significantly helped to deflect calls, particularly during times of peak volume. The work ensured that our call center teams were available to address more complex questions and concerns that required a live discussion.
We created tailored programs such as webinars and education about financial planning during the crisis; the materials included customizable presentations, emails and newsletters for advisors' outreach to clients. We showcased how Prudential is helping participants during the crisis, including waiving fees for emergency access to savings, as just one example.
We aggressively leveraged social media, including live events, with content that demonstrated empathy to those directly affected by the pandemic, offered thoughtful information about managing through a crisis and delivering our thanks to our nation's front-line workers—many of whom are customers. We developed thought leadership pieces and white papers positioning Prudential experts and company leaders on matters of public policy. Much of our attention was also focused on making sense of the federal CARES Act stimulus bill—bringing information and FAQs quickly to advisors, plan sponsors and consumers.
These are just examples.  We have marketing teams dedicated to all of our businesses—people who have a seat at the business's strategy table—who are dedicated to positioning Prudential as a company that puts its customers first.
We were—and are—strategic partners with the business. We are on this journey together, with the customer centered around everything that we do. And as our teams worked with focus, speed and purpose—I couldn't have been prouder.
How has the way you work changed during the pandemic?
Prudential is not alone in working in this "new normal." The pandemic and associated stay-at-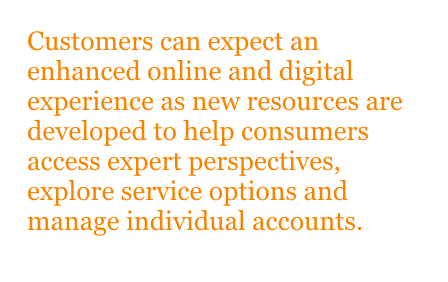 home orders have certainly changed how we operate and some of the tools we use to engage with our customers and each other.
Our strong business continuity planning allowed us to quickly achieve very close to normal levels of productivity.  But now with about 97 % of our employees working remotely, we had to lean on technology to get important work done. As an example, our videoconferencing usage has gone up significantly.  In fact, it's become an almost indispensable tool for workforce collaboration and communication.  I foresee this trend continuing even after we return to our physical offices.
Without our ability to meet in-person, we began leveraging web-based, virtual presentations and pitch decks, which are now replacing critical in-person client meetings to ensure our business was able to continue smoothly. Live talks have been effective, particularly with interactive sessions that encourage Q&A chats and networking among attendees. Again, good and effective use of technology makes us look for ways to adapt, and when you do it well, it helps to create a differentiated customer experience.
How are your employees adapting?
Our Marketing organization is filled with creative problem solvers who are extremely focused and obsessed with driving the right outcomes for our customers, and our business. These characteristics were immensely helpful as we all navigated the challenges of remote work. And quite frankly, I don't think we missed a beat.
We always say that our company is only as good as its people. This simple fact is central to all that we do – and there was no better example of this than during the COVID-19 outbreak.
Leaders were clear and understanding about the difficulties of balancing working from home, while caring for children and trying to maintain their own physical and mental health. And helping employees adapt to this new work environment was our number one priority.
We have continued to encourage employees to take advantage of the breadth of Prudential's Health and Wellness offerings including mindfulness and meditation for stress relief. We also encouraged community engagement, philanthropy and giving during this time of global need. Prudential made significant contributions to the communities in which we live and work as well as to national relief organizations by way of our Foundation; the Company matched employee donations 2-to-1, and offered employees virtual opportunities to volunteer. Our employees are generally passionate about their community work; as we all worked through this pandemic, it's become what we now call #PruProud.
These are all just a few examples of how the Company has supported employees. We are proud to have a "people first" mindset.
How are you preparing for a post-pandemic future?
When the pandemic hit, we worked at two speeds: The speed of light and the speed of sound! The first and as previously mentioned, was handling the urgent matters of the crisis with the goal of keeping our customers informed, protected and supported. We moved lightning fast on this, meeting in short bursts multiple times a day and quickly prioritizing throughout the day. The second was one of rapid planning—creating new, evergreen 30-60-90-day marketing plans for all of our businesses, paying careful consideration to consumer expectations, preferences, and needs as a result of the market volatility and related COVID-19 disruptions—and to prepare for when the pandemic to  ease.
Looking to the future, we intend to continue to leverage our use of technology and capitalize on Prudential's growing digital capabilities to serve consumers. Customers can expect an enhanced online and digital experience as new resources are developed to help consumers access expert perspectives, explore service options and manage individual accounts. This will also allow for increased accessibility and flexibility for consumers in times of change.
Optimizing content on our landing page and work on both the homepage and within the site are part of our next steps in providing service. Easy navigations and well-organized components, simplified for mobile, will respond to customers–meeting them where they are.
We're of course keenly focused on marketing budgets, inasmuch as cost pressures have been particularly acute during this very unique global event. Luckily, and prior to the COVID-19 outbreak, we had already organized around cost optimization by creating an Orchestration team within the Marketing Department. The objective of the team is to align marketing strategies to priority projects, making sure that budgets are similarly aligned against high impact goals and objectives. Through this type of proactive planning, we know that our decisions are grounded in the company's business strategic objectives, while allowing us to stay nimble and adaptable in the face of further uncertainties that will likely unfold.
As consumers begin to reorient themselves, our job will require us to continue adjust as markets change.  What we know now is that the crisis amplified the financial wellness challenges U.S. households face, leaving many Americans concerned whether they'll have enough to get by in retirement, or ever be able to retire at all. The market in recession, job losses and health issues compound many financial challenges—highlighting the critical role we play in delivering peace of mind, especially as our customers rebuild their financial plans. Messaging to this end has already begun, as we position ourselves to participate in a global economic recovery—and to look forward to better things ahead.