Even in so much uncertainty, at least one thing has remained constant: fall =football (whether our version or the world's). While the show has gone on, games this fall have looked quite a bit different, particularly with (mostly) empty stadiums. This has forced teams and leagues to think differently about how, where and when to engage with fans. Some of these may be temporary fixes for homebound fans, while others may offer a peek into the future. Following are a few examples that we think have fared well. 
_________________________________________________________________________
I love what ESPN is doing with college football. More than any other sporting event, the crowd at a college football game is a huge part of the experience, especially in the major conferences with 90,000 people decked out in school colors, synchronized cheers from the packed student sections and the fight songs from the marching bands. It's hard to mask the fact that those pieces are missing. But the network is doing it. Despite those missing pieces college football looks and sounds really good on Saturday afternoons. ESPN rolled out new graphics, music and an improved game clock, on top of what seems to be more camera angles and even tighter close-ups on the players. As fans, we get an even more intimate seat. I'm looking forward to the day fans are back in the stands of all sports, but in the meantime the networks and leagues are producing something worth watching."– Brian Heffron, Partner
_________________________________________________________________________
Predictably, the NFL is producing televised games that most closely mirror the pre-COVID viewing experience for me. Tight shots on the players and the plays. Realistic enough fake crowd noise, modulated for big moments with announcers raising their voices as they would when shouting over raucous crowd noise. Showing the empty stadiums as infrequently as possible, which sometimes reminds me what the action almost made me forget: oh yeah, that's right, this isn't normal. 
Hockey came close but baseball and basketball don't look or sound as real to me. The sounds, the echoes, just keep reminding me this isn't like a normal professional game. 
I think it has reinforced that live crowds matter. They matter to the athletes and the fans. They depend on each other to deliver the full experience. – Mark Fredrickson, Managing Director – Technology Practice
_________________________________________________________________________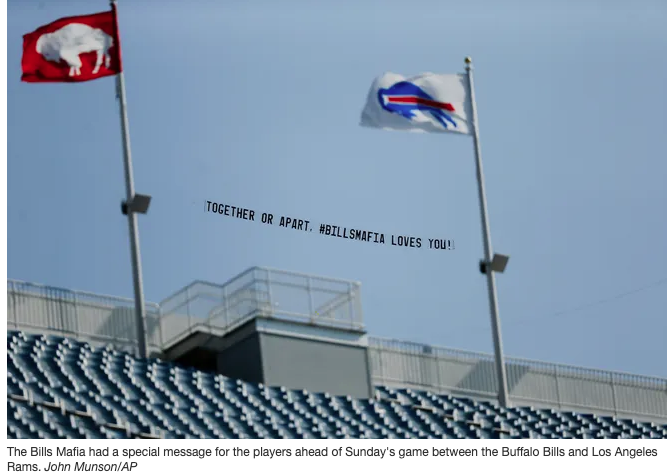 Even though fans aren't filling seats in the stadium, sports organizations are seeing them and hearing them more clearly/loudly than ever before. The pandemic has forced organizations to get creative when it comes to the fan experience, but has also allowed fans themselves to get creative and show their support in ways they otherwise wouldn't have. For example, Buffalo Bills fans (aka Bills Mafia) came together to send a message to the team with a flyover banner that read: "Together or Apart, #BillsMafia Loves You!" While Bills Mafia would usually be jumping through tables, they are now finding other (albeit safer and more appropriate) ways to be involved and interact with their team/players. In a way, the fan experience is amplified because fans are getting more visibility/voice. – Lexi Panepinto, Senior Account Executive
_________________________________________________________________________
With limitations on advances in-stadium (given the lack of fans in most places) and on screen, some of the European "football" teams have done a nice job testing innovations where they can build and sustain engagement: apps and websites. This seems particularly smart given that tomorrow's fan – the digital native – is more connected with these types of platforms than linear TV. As they grow in number and spending power, it's important to connect where they are and how they expect it.
Some of these trials include:
Tottenham Hotspur has changed the layout of its website based upon user behavior. In particular, content from the women's first team will be featured to users who engage with it. It's just one example of using various testing and optimization tactics to generate customized digital experiences.
Juventus (hello Weston McKennie) has incorporated personalized e-comm offers on its website by using information gleaned about its fan club members. Others are using site and app data, together with sponsors, to create email offers around special products and services.
Manchester United has elevated the game-day experience with chat apps, user-generated content, interactive games and personalized alerts (if only the experience on-field was as engaging). It would be interesting to see how this might be combined with, say, the geolocation capabilities and in-app initiatives that the Green Bay Packers and Golden State Warriors were using pre-COVID.

 

–

Todd Graff, SVP, Public Relations