Even as many businesses are starting to re-open, colleges and universities are stuck in a prolonged state of uncertainty as they try to forecast months down the road. They are balancing health, education and financial stability. As part of our conversation series with communications and marketing leaders on how they are adjusting their approach during the pandemic, we hear from Michelle Adams O'Regan, Vice President of Marketing and Communications at Curry College. Michelle believes empathy and over-communicating with students and their families are keys as institutions continue to figure out what the next academic year will look like.
What's been the biggest communications challenge since the public health crisis began? How have you navigated it?
I think that there's been a progression. First, the extremely rapid unfolding of events and the need to communicate clearly, effectively, transparently, and above all, quickly, on what was a near-daily basis in March and April. Exhausting, of course! We, like most other institutions, dealt with that by having our Crisis Management Team and Executive Team meet daily (first in person and then virtually), and being at that table was invaluable in terms of having all the relevant information and being able to shape communications in real-time, so there wasn't a delay and information was being accurately and consistently disseminated on all channels as decisions were made.
Then, as we settled into a very challenging semester, we still had students, faculty members and alumni doing great things that we wanted to share. Some were related to COVID and some were not. We felt that it was important for our community to hear those stories, but we also didn't want to appear tone-deaf to the current moment of crisis. So, we framed some stories with that in mind and built a strong pipeline of others, as we highlighted community members doing great work in research, nursing, journalism, and other fields. Building pride in our community by striking the right tone with content on our feeds became more important than ever, so it was vital to have a constant stream of that content visible to our community. It was definitely a shift from what we usually cover at the end of the academic year!
I think the toughest part is facing the uncertainties of reopening. We would all much prefer to communicate concrete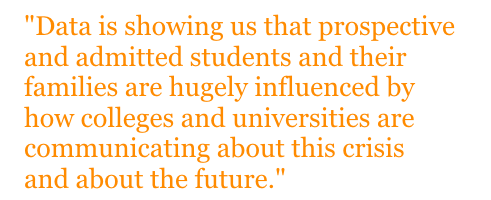 decisions and plans, of course. We're navigating that by taking a "more is more" approach, realizing that students, families, faculty, and staff would much prefer to hear from us, even if all we can say is "we don't know yet, but we're committed to being in this with you and to figuring it out with your best interests, health and safety at heart," rather than waiting for us to get in touch when we have all the answers. Because none of us have those answers right now, and the only way to all actually be in this together and come through it together as a community is to admit it.
What channels have been most effective in keeping Curry College students and their families informed?
We established the Curry.edu/coronavirus web presence early on, and utilized that as a central hub of information and we drove people to it with all of our communications. But all communications produced to inform the college community of our coronavirus-related decisions crisis were also distributed via segmented emails, social media, on our internal portal, and a robust e-newsletter platform, which was already in place. With that central hub of information on the web, we've used our existing outlets to push it out and to effectively to reinforce important information for our constituents, in places where they are used to going for news- in other words, meeting them where they already are.
Is there a single insight or two you can share about the mind of the higher ed consumer – the student – today versus a year ago at this time? (What's changed?)
Of course, online learning is a huge issue and a huge change. Many traditional undergraduate prospects may not have
thought about online learning a year ago. But now it looms very large in their decision making and presents significant challenges for marketing and recruiting, because of the uncertainty around returning to campus in the fall and how higher education may be changing in the future.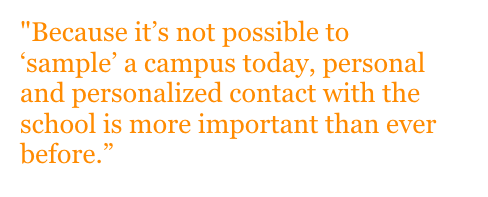 Location is another factor in a student's decision-making. Prospective students have always thought about this, of course, but now the idea of being closer to home because of the pandemic is a much more cogent one, which presents both opportunities and challenges for institutions, depending on where their students are typically garnered.
Because it's not possible to "sample" a campus today, personal and personalized contact with the school is more important than ever before. Interactions with admissions counselors, faculty, and current students that might generally have occurred naturally on campus tours, open houses or accepted student days are now happening via email, text, and Zoom. Still, in many cases, it's all prospective students can rely on when they're trying to decide which institution is a fit for them and how they gel with the people in the community. We have to think much more about how we are effectively using these tools and making the connections, because they are now much, much more important to prospective students than ever before.
With so many stories of students talking about taking a gap year because of the uncertainty around the fall semester, how do you recruit students to enroll and stay on the college path this coming year? Is there a point where crisis communications gives way to marketing or are they intertwined throughout?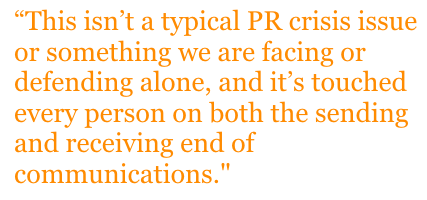 I think crisis comms are almost entirely intertwined with marketing this cycle. Data is showing us that prospective and admitted students and their families are hugely influenced by how colleges and universities are communicating about this crisis and about the future. They see the responses in the media and on an institution's website, and that shapes how they view leadership at that school and whether that's a community they want to be a part of.
Admitted students and their families are trying to make extremely difficult decisions about the future in a very uncertain time, so it's important for colleges and universities to acknowledging the difficulty and reassure them, rather than glossing over it or minimizing it. That means our content must be tonally appropriate and demonstrate value and pride.
What is the one piece of advice you'd give other communications leaders as they deal with this issue?
I think that the most important thing to remember is to be human and communicate with empathy. This isn't a typical PR crisis issue or something we are facing or defending alone, and it's touched every person on both the sending and receiving end of communications. As we think about what information we need to convey, especially difficult information, and how it might be received, we should try to do so in ways that demonstrate that sincerely. Authentic human feeling should not be lost in a sea of buzzwords. Empathy is always important, but never more so than now.