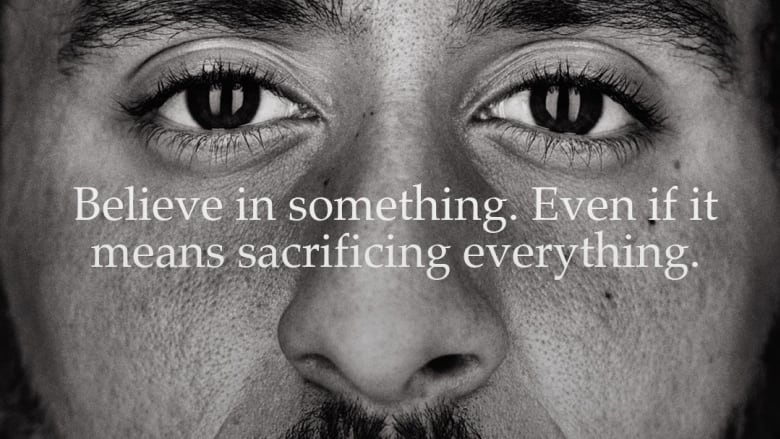 When Nike unveiled its newest ad on the eve of the NFL season both praise and vitriol flew quickly. The company proudly put a stake in the ground on the issue of athletes standing up for their beliefs when it featured Colin Kaepernick in ads. Taking a knee during the anthem, originally spurred by Kaepernick, has caused concern in NFL boardrooms and fiery debates on social media. So was it a smart move by one of the world's biggest brands to step into the fray? Or a misstep? We asked some of our folks across the agency. Here's what they said.
—
Nike is an extremely savvy brand. This effort with Colin Kaepernick wasn't developed in a vacuum and wasn't developed without careful consideration and thought.  Nike's core market wants brands to stand for something.  And this work does.  Short term protests aside, this is a winning effort for them.
– Majja Dennis, Managing Director
—
Despite the surveys showing the ad is hurting the company's reputation with Gen X and Gen Z, Nike is smart and knew what it was getting with the ad. The spot is moving and offers other inspiring stories, including NFL amputee Shaquem Griffin. But Nike could have made an equally provocative statement and mitigated the damage by also including a veteran amputee who sacrificed everything physically but is still competing as an athlete. In the process it could have put a new spin on a polarizing issue. Opportunity lost.
– Brian Heffron, Partner
—
Nike is a powerhouse organization with a lot of pull and often in the public eye. With that power I believe comes responsibility. Responsibility to correct a wrong that you see and to speak up for what your brand represents. Nike is doing just that through the Kaepernick ad campaign. This campaign is risky and cutting edge and will rub a lot of people the wrong way. However, it will also make them unforgettable and heroes for the people that they are ultimately trying to market towards.
– Jenny Crandall, Social Media & Content Specialist
—
The stock price will come back, and this campaign will be viewed as a big win. Will be interesting to see if this affects their relationship with the NFL, and whether they care.
– Fred Conover, President
—
Nike is making a big bet on social justice and the values of younger, engaged, urban consumers. I like their odds. One way Trump could kill the campaign — wear Nike.
– Chip Tuttle, Partner
—
It is clear that Nike anticipated the massive publicity and social media attention generated by the Kaepernick ad. Neither the praise nor the scorn is a surprise to them; they wanted both. Time will tell if their calculation (that overall it's good for business) proves correct.
– Mark Fredrickson, Managing Director, Tech
—
In the midst of the political atmosphere surrounding the NFL and "take a knee," Nike knew exactly what they were risking when they chose to take a confident stance on the issue, like the athletes they support, many of whom have overcome huge obstacles in their drive to be the best in their sports. The ad itself will feel inspiring for many people: to see such an incredible collection of athletes featured altogether, alongside an empowering message that Nike correctly predicted would resonate with their predominantly young and diverse customer base.
– Ariel Perry, Senior Digital Experience Specialist
It's a risky strategy but one that will ultimately pay off for them. This move shows how Nike knows their audience and can speak to them in a unique and bold way that other brands are not doing. Also, generating over $40 million of media coverage within a couple days in impressive, and having a large percentage of the conversation be positive or neutral, is tough to do. Every brand is struggling to to capture consumer's attention and this ad moved Nike to the forefront of conversation.  Plus, running this campaign completely embodies the purpose of the ad: Taking a stand for something is better than not standing for anything. Most brands choose to fly under the radar and steer clear when it comes to these types of issues, and Nike is doing the opposite. 
– Mark Duffy, Media Supervisor