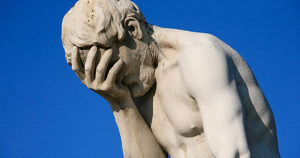 I have to admit, I'm not great with names. Unless I really concentrate during that first handshake, I'm more likely to remember your high school's mascot, how you take your coffee and whether you're a cat person or a dog person.
Lucky for me, I'm not in charge of CBS News's Twitter feed.
And as a chronic name-forgetter, I feel for the CBS employee who made the unfortunate error of congratulating "Michael" (AKA Derek) Jeter after last night's MLB All-Star Game. I imagine the poor soul was greeted by an acute mistake-hangover this morning, not helped by the fact that #MichaelJeter was trending on Twitter, highlighted on the Today Show and parodied by hundreds of Twitter-mistake vultures.
Obviously, the CBS News "typo" could have been prevented. (A Wikipedia fact check, quick proof-read, or shot of espresso would have done the trick.) Nevertheless, what gets tweeted stays tweeted. And then gets retweeted.
The lesson to be learned is NOT that brands must be perfect at all times. As far as I see it, errors– be they mundane, funny, offensive, incomprehensible, etc.– are bound to happen as long as human beings control social platforms. So what's a brand to do post-debacle?
Here are a few ways to redeem your Twitter oops:
–  Correct the Mistake.  Pull down the error, but acknowledge it in the corrected post.  We're dealing with a seriously observant network of ultra-connected tweeters.  What's more, they have zero interest in protecting your brand's feelings.  Acknowledge your mistake before they do.
–  Apologize.  If your post offended one or more people, it's best to publicly apologize. Preferably via the same channel(s) on which your comment was originally published.   Regardless of your intentions, say sorry sincerely, promptly and pointedly.
–  Have a sense of humor.  In my opinion, CBS could have had more fun with this one.  Why not address the situation with a little lighthearted, self-effacing humor?  If you don't seize the opportunity, somebody else will…
–  For goodness sake, do not pretend like it didn't happen.  Just don't.
–  #GetOverIt.  Remember the time you pressed "send" seconds before realizing that you emailed your boss instead of your mom?Thanks to the gut-wrenching shame that ensued, you now remember to proof all your emails. Twice.  The same principle applies here.  Be careful when tweeting, share drafts with those around you, analyze tone, and be certain of the facts before posting.  That said, if a tweet slips through the cracks, address it and move on.  After all, it's just Twitter.
Oh, and CBS News? If you're reading this, you might consider giving the Michael-Jeter-Tweeter a pass this time.
We're only human.