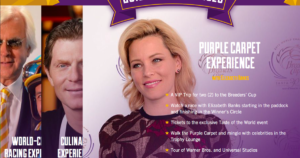 To create added excitement to the upcoming 2016 Breeders' Cup World Championships, CTP helped create and launch a dynamic sweepstakes, featuring chef Bobby Flay, actress Elizabeth Banks, TV personality Carson Kressley, trainer Bob Baffert, and jockey Victor Espinoza. The sweepstakes, titled Racing with Stars VIP Sweepstakes presented by America's Best Racing, offered participants the chance to win one of four once-in-a-lifetime experiences at the championship races.
"Over the past several years, the Breeders' Cup has established itself as not only a premier sporting event, but also as one of the world's most prestigious lifestyle and entertainment events, and the new celebrity sweepstakes reaffirms our commitment to this vision," said Breeders' Cup President and CEO Craig Fravel. "We are excited to provide yet another way for our fans to engage with the sport throughout the summer leading up to the Breeders' Cup, and to celebrate with the winners in the fall at Santa Anita. We especially thank our Ambassadors for their continued support and for helping to promote our great sport to a broader audience."
"Breeders' Cup weekend is marked on my calendar every year. I grew up going to the races with my dad and my love of the sport has only grown," said Elizabeth Banks, Breeders' Cup Ambassador. "From the racing and the fashion to the beautiful tracks and parties, Breeders' Cup has it all."
The 2016 Breeders' Cup World Championships will be held on Friday, November 4 and Saturday, November 5 at Santa Anita Park in California.