The shift toward more user data privacy (e.g. EU's GDPR, Chrome killing the cookie in 2022) has been underway for some time with the collective change having massive implications for the marketing industry. It is critical that digital marketers remain abreast of this sustained evolution in order to understand the implications of these changes and plan accordingly. 
The most noteworthy change, in large part because of Apple's reach and influence, may be the rollout of iOS 14. It is a foundational shift for the digital marketing industry, one with short term implications and likely long-term ripple effects that we can't quite predict. While many of the privacy components were pushed back in this week's unveiling of iOS 14, that doesn't alter the fact that winter is coming. 
The ecosystem of digital marketing – in oversimplified terms – has been a yin and yang of free, convenient content at the price of user data privacy. While the EU has since decided to legislate with some weight toward user privacy in the form of GDPR and similar efforts, the US has largely left this balancing act to the free market. Until recently, this has left the major hardware and software companies (read: FAANG) that shape our interface with the digital fabric of reality to capitalize and/or protect their own interpretation of what that balance is.
Nowhere has this balance been more of a battleground than perhaps on your mobile device which is constantly capturing and communicating your whereabouts, behavior, and preferences via your unique mobile Apple phone identifier: IDFA (see IDFA breakout box). Back in June, Apple announced their new iOS update in iOS14 will provide one of the more meaningful overhauls to user data privacy of recent years that could affect nearly half of all smartphone users in the US.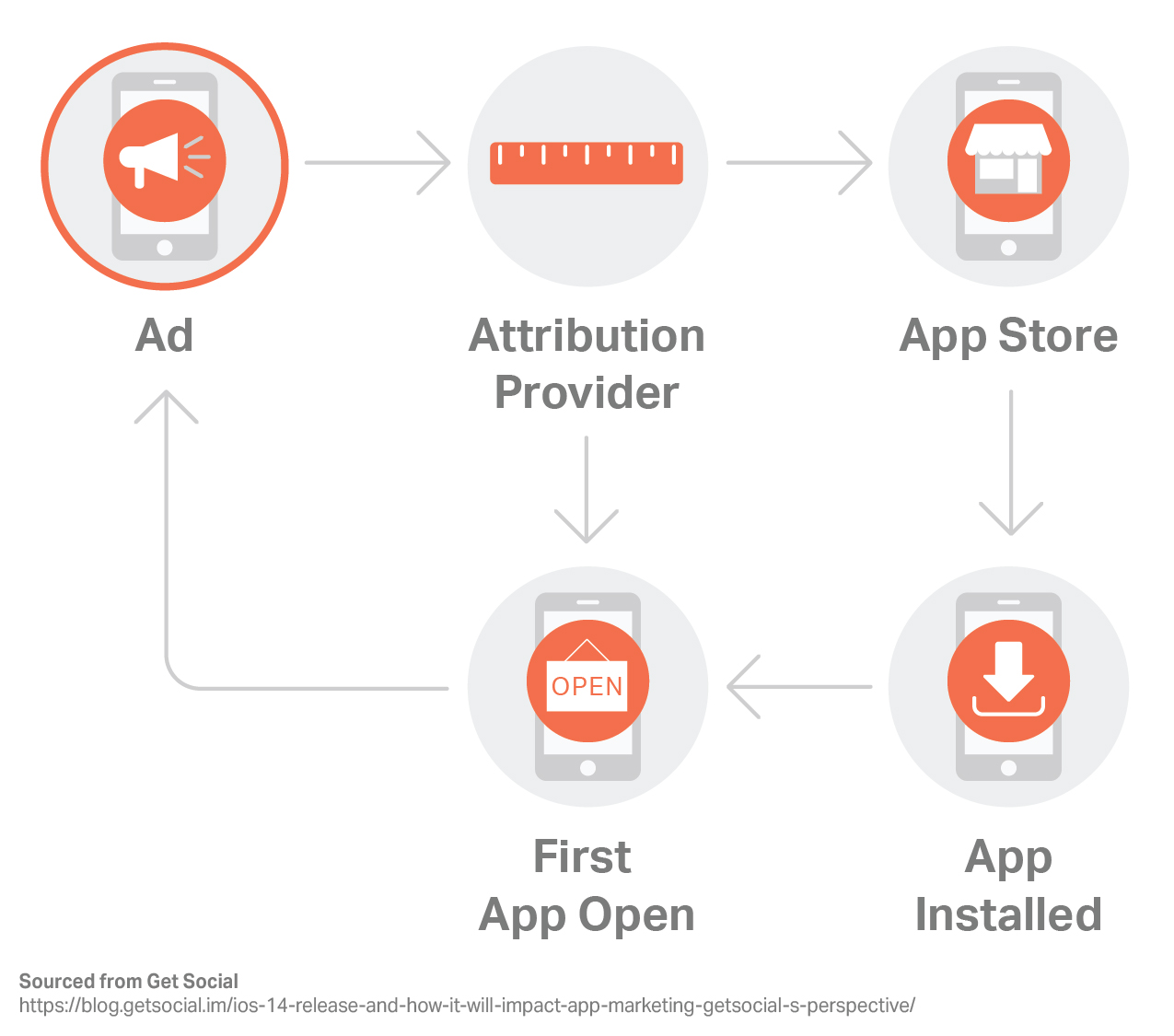 What are key points marketers know about the updates in iOS14?
As with any new software release, there are dozens of new features – many of which have significant implications for marketers. But those that demand the most attention center on privacy and transparency for the user – and its impact on advertising monetization.
While it's hard to predict how users will react, and the actual effect, marketers should expect it to be significant. After all, we know this: As of earlier this year, there had been a 70% decline in always-on location data since the launch of iOS 13.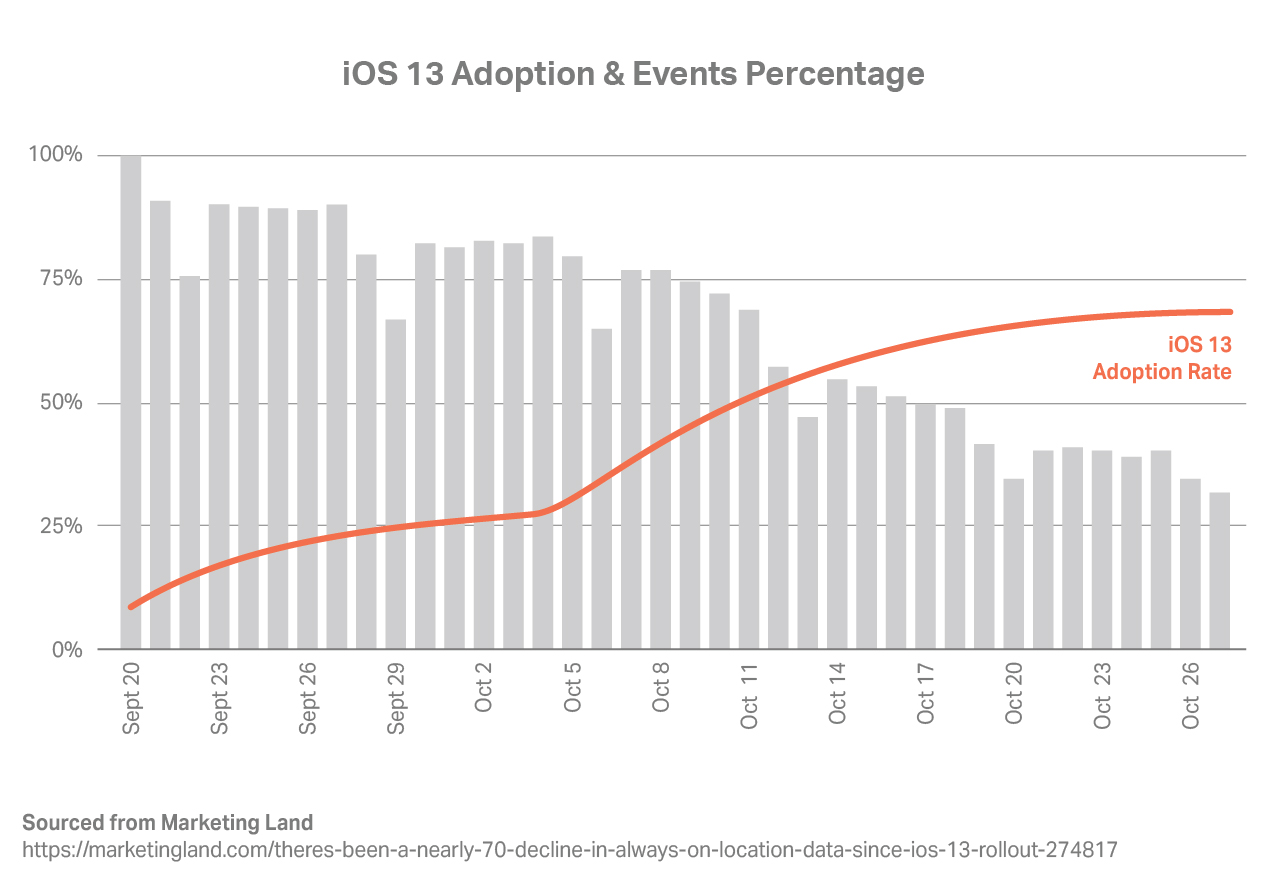 Approximate Location:

When determining whether an app can access your location – the user can now provide approximate location data. This is a continuation of their iOS 13 feature that allowed a user to only share their location at one point in time with apps vs. always on or always off.

Indicator Light:

The iPhone will now provide an indicator light (similar to when you're video recording) that will signify if the mic or camera is recording for any app either in the forefront or background. This will be an interesting feature that might highlight some of the rather aggressive mic sampling apps like Facebook Messenger would employ.

Tracking Permission:

Lastly, and perhaps the biggest change, is iOS14 will flatly ask the user whether they're willing to be tracked within any given app in use. This has obviously major implications for data capture and monetization, but also developers who will now have to explicitly self-report data usage.
So what are the implications for marketers?
Apple has provided little info about the potential impact of the update – other than a basic overview of the user experience – likely fueling some of the unbridled speculation. But one thing we're certain is that the biggest impact likely will be on targeted advertising. 
If you believe Facebook, the impact could be massive (below). The biggest impact, however, are likely apps and programmatic placements across the mobile web. There will be a decrease in targeting power and control that can lead to inefficiencies. 
Because of that, here's what I expect:
Increased CPC:

For performance-focused media, a small-to-moderate increase in cost-per-conversion metrics (e.g., CPA, CPT) depending on the mobile-only inventory in your media mix. While the impact will be felt most heavily in the arenas that really depend on mobile ads (i.e.' selling other apps or web-based conversion points), there are many DSP-type players that rely on certain types of mobile data to accurately target or contextualize messaging.

Decline in Location Targeting:

Similarly, and while perhaps not as noticeable in performance metrics, industry marketers who rely heavily on device location, like retail or most B2B event-type marketing, will be most impacted. 

Impact on Measurement Tech

: Outside of media, you'll see certain measurement technology suffer, including those that link marketing spending to in-store traffic or even mobile media attribution partners. 

Drop in Social Performance:

Marketers that see a heavy portion of their digital media mix on social media platforms like Facebook's Audience Network (probably one of the stronger performing platforms in nearly everyone's digital media mix) are expected to see heavier drops in performance. To a lesser degree this would affect most B2B marketers on Linkedin. I don't, however, expect much impact on Twitter, which hasn't had the drive or proven success in modeling user data for effect in targeting aspects like look-alike models.

Looking deeper at Facebook's Audience Network – which publishes Facebook ads across myriad other mobile device apps – the platform recently said it is

expecting a 50% drop in their ad

business on the network as a result. The Audience Network relies heavily on the use of the IDFA to deterministically pursue targeted users and Facebook has stated it will no longer be using the IDFA in iOS14. The on-Facebook ads will be largely unaffected.
Anything marketers should be doing at this point?
If you rely heavily on social media as a portion of your media mix, I strongly suggest engaging with your measurement and media partners to understand how iOS14 changes affect you. Those who are well prepared, like mobile attribution platform Adjust , will have a comprehensive write-up on what's changing for them in iOS14. If all you get is shoulder shrugs, you should push harder – as these updates are large enough to cause even Facebook to go public with their whining.
Additionally:
Alternate Revenue Streams:

As app developers see their revenue decrease due to reduced data capture to resell, I would also expect that this might create more gated experiences and/or more in-app purchasing (30% goes to Apple) as a way for app developers to increase existing revenue streams or create new ones. This might present interesting new ad inventory, or even creative partnership opportunities with certain apps that might be particularly germain to your type of user. Keep your eyes peeled for how this might change in-app ad inventory.
Behavioral Targeting:

Over the mid-to-longer term, you can expect to see increasing targeting and inventory options in mobile advertising slated around probabilistic (eg. behavioral profiles) targeting instead of deterministic targeting. Understanding what your targeted user is doing and likes to do will become more important as the current shortcut of uploading of first party lists into audience networks for 1:1 targeting will be less useful. This can be done by:

Developing marketing and communication approaches that prioritize the capture of 1st party data capture in order to feed internal intelligence approaches that make the most use of the relationships your brand currently manage

Increasing the measurability of your entire marketing funnel in order to ensure you're not overly weighted to one or two tactics that create disproportionate impact on your marketing performance as these changes occur
Similar to many of the other major changes in user data privacy, this iOS14 update will continue to emphasize brands prioritize developing their own 1:1 relationship with their consumers and prospects. This has been an area that CTP has been guiding clients towards both as an effective marketing outcome, as well as a hedge for the incoming tide of increased data privacy that makes deterministic targeting at scale increasingly more difficult. The current emphasis on value-add content and personalization will only be magnified as more data privacy changes roll out.
If you're concerned about these changes, have questions or need some guidance, drop us a line.