Our series of conversations with communications leaders continues this week with a look at the impact of COVID-19 on frontline businesses that have remained open. Whitney Clarke is a Boston-based Chief Marketer, who has previously led efforts at CVS Health and Stop & Shop, among others. She gives us a little insight into the possible evolution of brand and marketing strategy post-pandemic.
You've been at two industries on the front lines of this pandemic: grocery and health care. How well do you think they have fared with overall communications and in supporting their front line employees?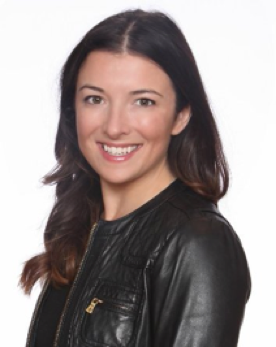 Communications have been strong but even more important, is the ACTION we've seen from these companies.  I think the words and actions of the companies have been great; many have led with their values. Both of those companies acted quickly and speed is critical right now.  I applaud their innovations to better serve the community, and the speed of their actions.
It will be interesting to see the changes that endure when this is over — and how we collectively behave 'after.'  Grocery shopping, in particular, is something we're all navigating differently right now.  I've been talking with many other marketers and business leaders lately, and we keep saying the same thing:  if you hadn't already really invested in your Omnichannel or eCommerce business, I think you're really behind the 8-ball… there's a lot of vulnerability in the 'catch up' game right now. Companies are in a vulnerable place if they're just getting started right now. Convenience and ease have always been important to customers, but during this pandemic, ease takes on a whole new meaning with the concern that people have about going into stores. I'm worried about those businesses that are just scrambling now to learn and create better 'contactless' digital solutions.
If you were running marketing at a similar organization right now, what would you be focusing on?
The importance of building, demonstrating and communicating authentic empathy as part of the organization's DNA. Not just the communications – but acting with integrity everyday to walk that talk, and act with community in mind.  Of course, transactions are important always. No question.  It's what keeps a business alive tomorrow and next week. But how you continue to show empathy with customers — commit to innovating and continually helping them solve evolving challenges — will drive the long game.
I'm also thinking about ensuring a portfolio approach to the work in organizations where 60%-80% of work is the work you have to do to keep business afloat. But how are you preserving that 20%-40% space for innovation that keeps the business sustainable in the long game. I'd be really focused on identifying customer pain points in their journeys.  This includes user experience; I'm teaching Venmo and Instacart over FaceTime with my aged 75+ parents.
"Brand" is the relationship that you build with your customers everyday… and it isn't just a conversation in the marketing department.  Marketers need to ensure that everyone feels ownership of the brand and each team shares that stewardship.  The brand, and committing to do right by customers and employees, must show up in every conversation and every interaction.
Black swan events are impossible to predict. But I'm wondering what sort of exercises and planning you would go through, and how often and with whom, in order to prepare for a major crisis?
They're impossible to predict … but they are inevitable. And their impact is a part of this new normal. We need to expect more waves of this, as well as others. One of biggest challenges for leaders is how adept they are at seeing around the corner, but it's nearly impossible to get that right.
I believe that the best preparation is simply focusing on the quality of the talent you hire and develop. It may be the only way that you can prepare yourself for a crisis like this. And it's not just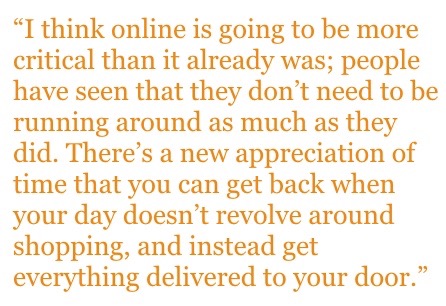 about capability and expertise, but whether the values match the company and culture.  How well do they demonstrate empathy, resilience, and care?  In times like these, under extraordinary pressure, real leaders show up (not just by title, but by resilience and strength of character). Those are the folks that drive engagement and create a positive energy… it can be contagious.
One of the areas you might see this evolution is in how you interview talent coming in, and techniques to better identify not just the 'what' people can do, but 'how' they can do it when times are tough.
Disruption drives behavior change, and we've seen significant disruptions over the last 6-8 weeks in grocery. What do you think will be the medium- and long-term effects on shoppers and shopping behavior?
People's eyes have been opened. This forced disruption has motivated customers to experience new ways of shopping — for example, first-time trial and increased usage of eCommerce and aggregators/intermediaries (like instacart). When this is over, some old ways will resume, but there will be new patterns.  For example, it's likely that people are shopping for groceries far less than they did before the pandemic (they are probably doing bigger shops with fewer trips/transactions). Trips have consolidated more and people are probably shopping at fewer different retailers — instead looking for more 'one stop shopping' destinations. It will take time and incentive for people to go back to the way they shopped before. And again, I think online is going to be more critical than it already was; people have seen that they don't need to be running around as much as they did… there's a new appreciation of time that you can get back when your day doesn't revolve around shopping, and instead get everything delivered to your door.
Finally, I also think that health and safety can no longer can be presumed; they will be critical to building trust post-pandemic.  How does this enhanced focus on health become part of a brand experience and communications?
What should be the biggest learning for marketers?
Brand stewardship and the importance of walking the talk. The brands that fare well during crises are the ones who have purpose and authentic empathy, and lead with strong values.  'Building a brand' is not about words and pictures — it's about actions and behaviors.  We can't forget that a brand requires continual nurturing and investment, in good times and in bad.  So often brand marketing is one of the first lines cut in a budget when a business is under pressure.  But the emotional connection that a strong, nurtured brand has with it's employees and customers has the power to sustain a business when the going is tough.